The Caretaker's Residence is a three-bedroom, three-bath house on a rolling vineyard site at the foot of
Sonoma Mountain. The client had a strong sense of elegant classical proportion and the solidity of ancient
construction methods, but also wanted a modern design appropriate to both contemporary thought and to
the temperate rural environment. The intent was to embody a sense of permanence and solidity, combine a
modern language with a warm materials palette, and be discretely woven into the surrounding landscape
while enjoying the site's panoramic view.

On an existing plateau at the seam between forested mountain and rolling vineyard, a heavy rammed-earth
wall demarcates the primary spaces of the house. Built of native dirt, this massive earthen wall anchors the
building structurally, ecologically, and experientially. On the west side are intimate gardens, walled by
house and forest and open vertically to the sky. Parallel floor and ceiling planes extend to the east, where
floor-to-ceiling glass allows sweeping views over the vineyard, valley, and distant hills. Deep penetrations
through the anchor wall reveal carefully orchestrated glimpses into the lush hillside garden.

The building's rich materials palette of earth, concrete, wood, plaster, patinated and stainless steel is
balanced by a simplicity of form and detail. This restraint is deferential to the surrounding landscape, to
the inherent beauty of the materials used, and to the owner's collection of art and antiques.

Carefully placed among existing trees, the house is oriented to provide natural heating and cooling. Floor-to-
ceiling east-facing glass gathers warmth from the morning sun, tempered during Summer months by
deep roof overhangs; the solid west wall and wooded hillside shade the house from intense afternoon heat.
A clerestory cut into the roof brings sun and sky deep into the interior, and ventilates the house with natural
convection currents. French doors and corner sliding glass doors open the interior out to the surrounding
terraces, embracing the indoor-outdoor lifestyle afforded by Sonoma's temperate climate.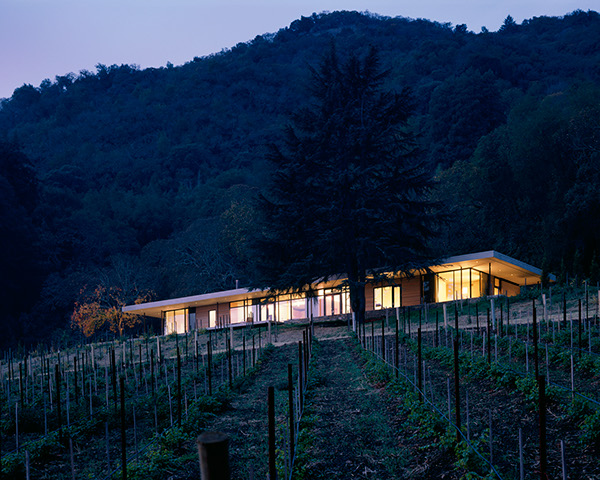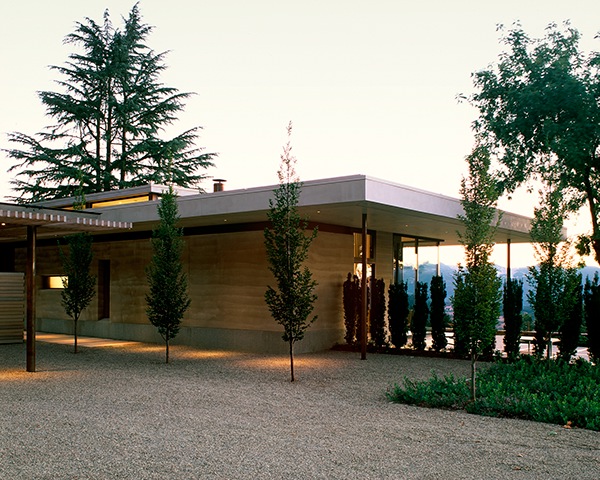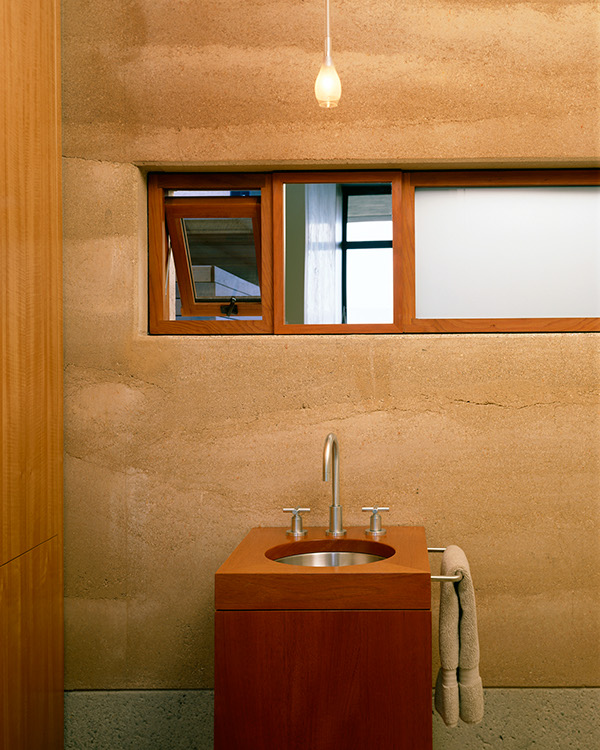 Photography: John Sutton, JD Peterson