This residence for clients who value total privacy and the minimalist tranquility of Japanese architecture and gardens, strives to create a deeply personal realm within the suburban context. The courtyard-house typology is the primary strategy used to achieve this objective. The house is conceived as a series of interconnected pavilions surrounding a garden. It is deliberately introspective, with solid planes of plaster and board-formed concrete around the perimeter, enfolding a verdant and open interior that mirrors the lushness of the surrounding hills. Nestled into a hilltop in Marin and located at the juncture where land merges with the water of the San Francisco Bay, the project also seeks to fully embrace this particular vantage point in the Bay Area geography. Through the critical framing and exposure of views to both the Peninsula and the hills, the surrounding environment is an essential counterpoint to the experience of the house. One is made constantly aware of the land/sea, nature/building reciprocity.
The house is organized on hierarchical levels of privacy, with the public and semi-public programs in the central wing, flanked on the street side by the service/utility/guest wing, and the clients' private quarters on the opposite end. It is conceived in layers rather than monolithically—not only physically, but psychologically, as a sequence of ritually unfolding spaces, from the most exuberant of public entertainment to the private, intimate areas of repose.
Each physical surface is embedded with visceral intent, from the sense of protection and safety implicit in the use of concrete and thick plaster walls around the perimeter, to the exhilarating openness of the living room window wall facing the Bay Area panorama. The materiality of the surfaces is informed by the balance of light and shadow, expansion and contraction, density and delicacy. At the heart of the public wing is the clients' art jewelry collection, which highlights the human scale of the work as well as their interest in the juncture between art and craft. Hidden within the shell of the monolithic mass, wooden carts act as both storage and showcase, their human scale within the larger chassis offering a more intimate, tactile setting in which to view the collection.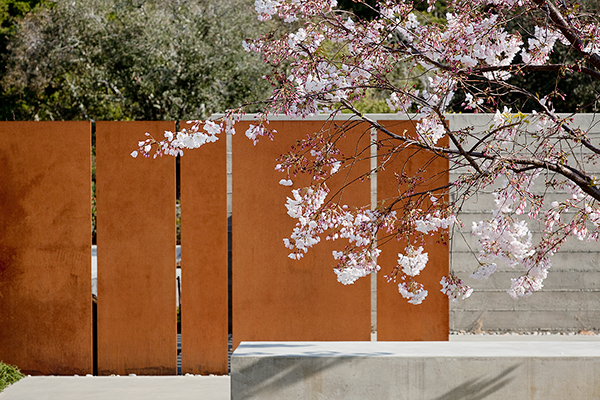 Photography: Matthew Millman