Located on ten acres of rolling hillside above the town of Sonoma in Northern California this private retreat is a freestanding structure adjacent to an existing rammed earth house. Partially hidden amongst a grove of Oaks, Manzanita and Madrone, two curved earthen walls gently carve into the landscape to create the entry to the intimate retreat below. Topography, orientation and landscape are all considered in the choreography of experience, heightening one's sense of discovery, privacy and ultimately the serenity of escape.
The building's form is defined by a collection of simple rustic cedar boxes that provide a counterpoint to the surrounding landscape. These boxes not only define and anchor the contiguous spaces, but they create apertures that act as the entry to the retreat and outdoor shower. The rectilinear forms are in turn cradled by the curving walls, which allow the resultant space to burrow into the earth. A wood deck of reclaimed teak extends interior space out into the landscape, obscuring the boundaries between inside and outside. The siting of the architecture and the configuration of the plan use the building's mass and the natural topography to screen the retreat from the existing house while retaining panoramic views to the southeast. A canopy of cantilevered lodgepole pine floats above the roof, providing much needed shade to the southern face of the building and its' sundeck. Trees to the south provide additional dappled shade at times opening to reveal the nearby foothills and views of San Francisco beyond.
The retreat was carefully sited amongst the existing trees to minimize the building's impact on the tree's fragile root network while also taking advantage of the shade the trees provide. Deep roof overhangs allow for solar heat gain in the Winter and provide shade from the intense California sun during the Summer. The curved board formed concrete walls also aid in regulating temperature by providing additional thermal ballast that helps to maintain the interior temperature. When weather permits, the entire south and east glazed facades slide away and completely retract into the walls. This facilitates airflow through the building and eliminates the need for conditioned air.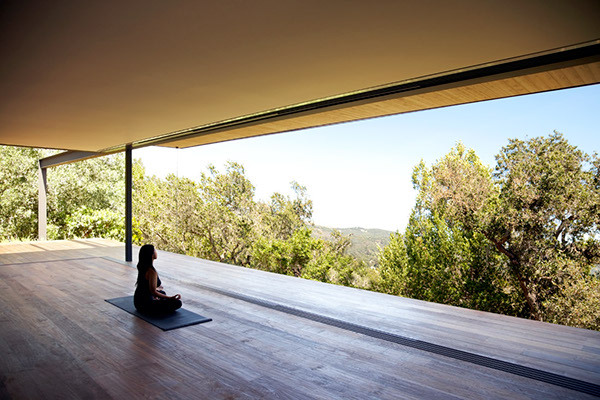 Photography: Bruce Damonte, Chris Gramly