OMEGA have pioneered sports timekeeping technology since their first appointment as the official timekeeper at the 1932 Olympic Games. Specifically, modern sports timekeeping as we know it today started at the 1948 London Olympic Games with the introducion of the first electric cells.
The newly-introduced finish-line technology was put to the test almost immediately when two athletes crossed the line seemingly at the same time in the 100m final - it was only the Photofinish camera and combined photo-electric cell system that could distinguish the true gold winner. Although the equipment used today is far more advanced, the same basic principals still apply. This project recalls the humble beginnings of photofinish technology and reminds us of its vital importance to sports.
Creative direction and design: Dario Nucci
Animation and edit: Brett McManus
Archive footage: IOC
BOOK: A limited edition print found only in stores, this book is filled with writing, graphics and archive photos that give us an insight into the world back in 1948.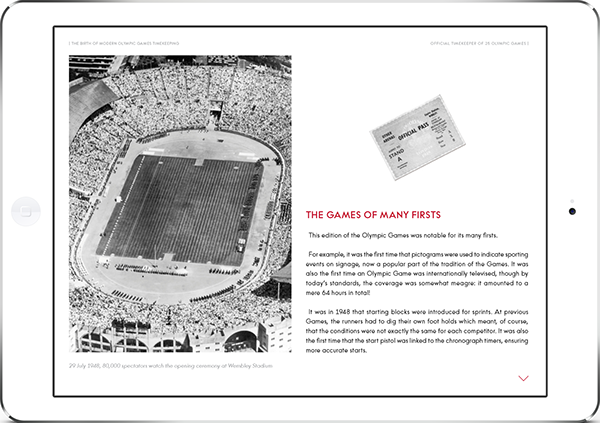 LONDON AND OMEGA 1948: THE FIRST PHOTO-FINISH IN OLYMPIC HISTORY.


When sprinter Harrison Dillard and Barney Ewell crossed the finish line the clock recorded identical times of 10.3 seconds. Ewell jubilantly threw his arms up in the air only to be told that the new 'Magic Eye' installed by Omega showed that he'd been narrowly defeated by Dillard. Because of the elasticity of the finishing tape, both runners made contact with it, leading Ewell to believe that he had won.