"Tactile Poetry" Series I : Poem Paintings A - D. 
These four paintings are the first set of formal compositional studies in the area of what I call Tactile Poem Painting. Simplistic and sophisticated in nature, each painting in the series is meant to be appreciated both visually and through the sense of touch; bringing art closer to those with visual impairments all while crossing the line of the taboo status-qua of not touching "fine art".
    Overall, the paintings are formal Kanji-like paintings formed with intuitive brush strokes derived from graffiti-like motion dynamics. I made use of "up-cycled" materials in the canvas construction/surface design. Each work was Primarily painted with thinned-out Golden black acrylic paint, Speedball Ink, gesso and white latex house paint
.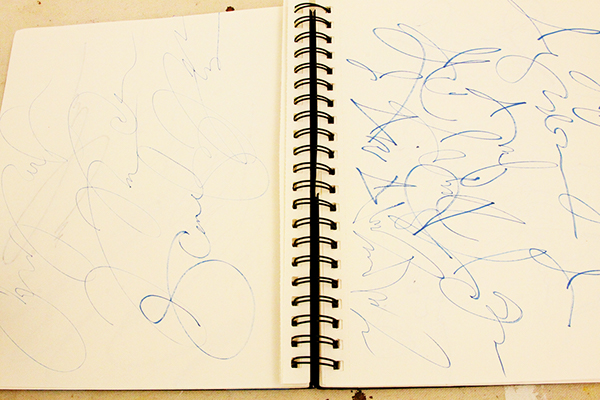 One of the most beautiful aspects of this process, is the preliminary line work that went into prepping my hand and arm for the canvas that awaited me. All of the strokes created were made without thought and each stroke would last no longer than one second from the touch of the paper to the rising of the marker. 

After I was comfortable with the freedom of my arm and hand to move with same fluidity of my thoughts,I transitioned from pen and marker to a larger format and a change in medium to paint on cloth and canvas. 
Artist Statement
For this series of paintings I explored art appreciation for people who have lost their sense of sight. I will navigate this exploration with the use of linedefined by form followed by feel. I start with figure ground relationships thattranslate the expression of the line I want and from there I add texture toeither the line itself or the surrounding canvas. The choice to manipulateeither the positive or negative spaces provides a greater range of possibilitiesthat can be interpreted both visually and through the sense of touch.





Overall, my paintings will look like traditional paintings however you willbe able to touch them, run your fingers through them and close your eyes andlet your sense of touch do the exploring. The presentation of four individual canvases allows for each canvas to become a personal inquiry into thesensitivity and complexity of the sense of touch. The four canvases are linkedtogether by the harmony of the line that came before it and the line that trailsafter it.