So I just wrapped up a big project for my friends over at 
Contently
. Sam had asked me to come in and paint a quote in their office; something that would reflect the business they do and the attitude in which they do it. We sat together and started brainstorming. The wall is about 11' x 11' so the layout had to be in a square format. By breaking the quote into separate lines, I was able to maximize the space used. After a few sessions of going back and forth, we came to a sketch that we were both happy with.
The final sketch was drawn on a custom grid paper. Each square is one inch. 6 inches cubed, made for a thicker line so I have my half foot marks. This way the image could be scaled up much easier. I started the wall by first drawing my grid on the wall. One line in the vertical axis and one in the horizontal axis with inch marks. Using a blue lead pencil and blue transfer paper I put my sketch on the wall. 
After a couple days the project really started to take off. I used paint markers to get solid crisp edges. The acrylics used needed a minimum of 2 coats so I could only make so much progress before painting the whole thing over again. The white wasn't opaque enough so instead, I painted with primmer. Primmer is designed to be super opaque and to give a flat bright white. After 4 coats of primmer, the white was enough to stand out and really pop off the wall. 
Two weeks from starting, I was done with the wall. In a way its hard to walk away from it knowing I wont be around it all the time. However, It has found a good home in the offices of 
Contently
.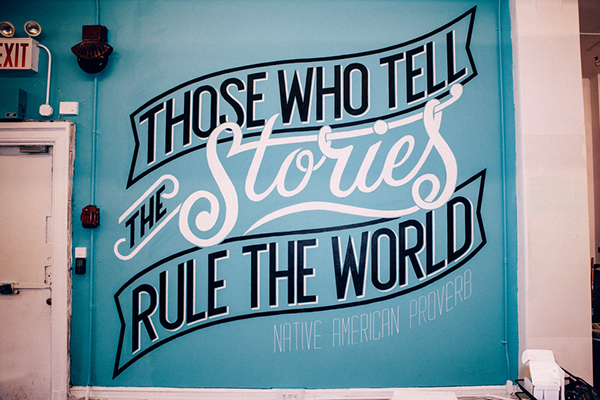 Thank you to everyone involved in the process. If you liked it, be sure to appreciate it.