Philip Taaffe "Works On Paper"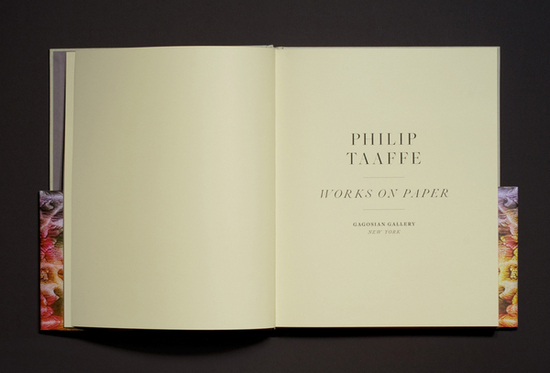 This 144 page catalog was created for an exhibition of drawings by Philip Taaffe held at the Gagosian's West 24th Street gallery space in New York City. It showcases a selection of over 70 "Works On Paper" created between 2007 and 2009, as well as texts by Robert Kelly, Peter Lamborn Wilson, and John Yau.

Because of the immensely detailed nature of these works, they are best viewed in person. However, not everyone is able to experience the work in the gallery, so the book was designed to replicate the gallery experience through the scale, detail pages, and fold outs for larger works including a 1/2 book jacket that unfolds to a poster. This allows the viewer to take in all the intricacies, hidden forms and color to the fullest extent possible.

Date: Winter 2010
Client: Gagosian Gallery
Editors: Georges Armaos, Raymond Foye & Alison McDonald
Creative Direction: Matteo Bologna
Typeface Design: Darden Studio

This project was designed while working at Mucca Design.