THE STATION OF FAME
RUHMSTATION
The Hall of Fame (Ruhmeshalle) in Barmen (present-day part of Wuppertal, Germany) was opened in 1900 as an Art Exhibition Hall, but anyway it was dedicated to the German Emperors. In 2005 I was invited to put an exhibition in one of the five rooms of the Kunsthalle Barmen, which is nowadays part of the former Ruhmeshalle. That was  the trigger for me to create the Station of Fame (Ruhmstation), which was placed in the middle of my room. Its structure was inspired by the Wilhelminian Style of the building, it was made of mixed media like wood, paper, plastic, glass, metal, etc. Like all my objects and installations the Station of Fame has no function and is in fact a dummie.



The Emperor Wilhelm II.
inaugurates the Ruhmeshalle
in 1900



The annunciation of the presentation of the Station of Fame
2005



The Station of Fame in front of the manufactury ready for dispatch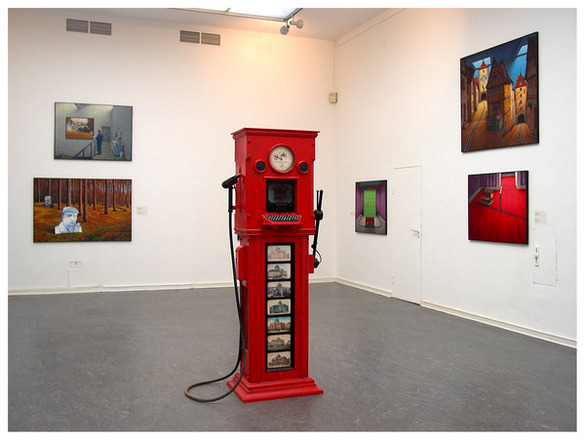 The Station of Fame in the Kunsthalle Barmen,
surrounded by my paintings.



The original interior of the Ruhmeshalle was destroyed in World War II.



Details of the upper front of the Station.
The scale on top is  photoshoped, using a clock face and a vintage postcard,
which showed the Ruhmeshalle and Wilhelm II.

In the viewers eye level a lucent interior view is displayed in a monitor.
It is a simple trick wthout any electricity:
A modified, transparent and mirror inverted vintage print is horizontally fixed
in the cube and seen in a diagonal mirror,
light is shining into the open top through the print.
The keyboard is completely handmade.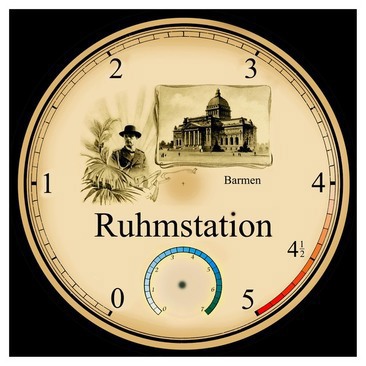 The scale of fame.
I replaced the Emperors head with my one.



The photoshoped lobby of the Ruhmeshalle, visible in the monitor.



Lever on the right side of the Station



On the lower front of the Station a few views of the building
from the early 20th century are displayed.
I modified vintage postcards, brought them to the same size and
changed the captions "Ruhmeshalle" to "Ruhmstation".



Example of a modified postcard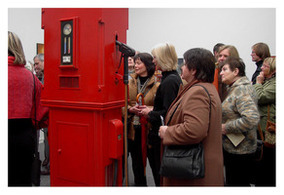 Many hours of work, fifteen minutes of fame.