History


After meeting the photographer Dragi Nedelcevski at TEDxSkopje (which surprisingly has studied in the same class with my mother) I went to visit him and his friends from Photo Club Chkrap in Tetovo, Macedonia.
And if you're a creative person, you know how these conversations go. All of you are mentioning interesting stuff seen on different blogs, struggling to describe them with words (secretly, you know you would kill to have a laptop or a tablet with you and just open the link :). 
Since I managed to capture with word only half of the things that have inspired me,  I promised them that I will send the links that we talked about as soon as I get back home. So I did. But instead of using the regular Facebook Inbox, I decided to try the (then) new Facebook Groups.


And that's how Creative Exchange was born as a simple Facebook Group.
The CX Symbol


Few weeks afterwards, we expanded the group by inviting other friends who were also interested in sharing links with creative content.
With the new members on board, it was time to create a logo for the group:
The logo was the starting point of the whole visual identity system. By using different typefaces for the same 3 characters, the CX symbol took a variety of forms, but always retained the connection with the original symbol: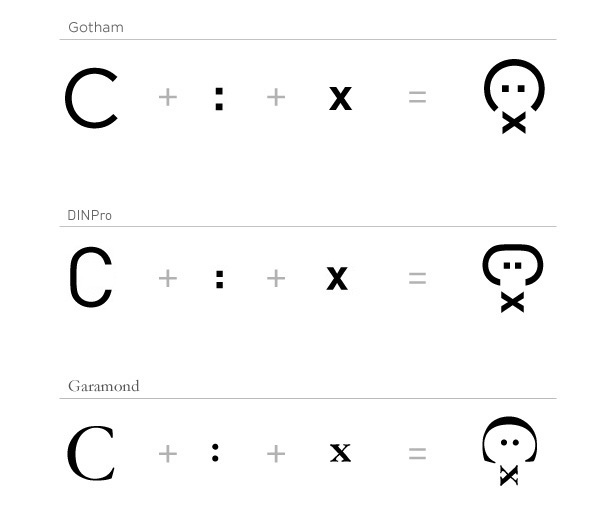 The result was a collection of symbols that represented the diversity amongst us, but also united us under one common theme, Creative Exchange.
The typography was rotated by 90 degrees in order to accentuate the rotation of the CX symbol. To make things easier to read, I used one of the most legible typefaces, Interstate.
The typeface also correlates with the boldness of the main symbol.
The First CX Meet up


Two months later,
the first

Creative Exchange Meet up

was held where we discussed our future plans and talked about how CX can evolve.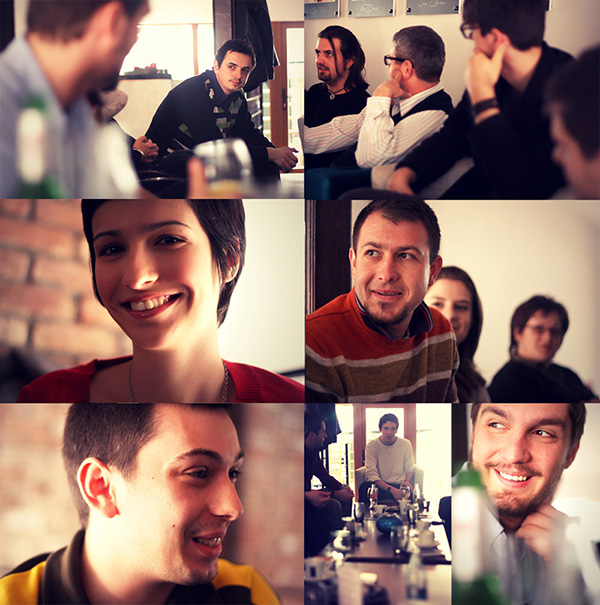 Few things were agreed on that meeting:
The Gift Exchange




The CX member, Goce Veleski had

a great idea for the first meet up - each one of us was supposed to bring a gift and exchange it with another member from the group. Every gift had an interesting story behind it - whether
it was a personal artwork, music album, handcrafted jewelry or a dear boo

k
, the emotional value was not left behind
.
As my personal gift, I prepared the first ever Creative Exchange poster:
Update:
First presentations
On 16th of April 2011, the first three presentations took place which marked the start of many other future events. The identity was expanded by combining different CX faces with faces from real people.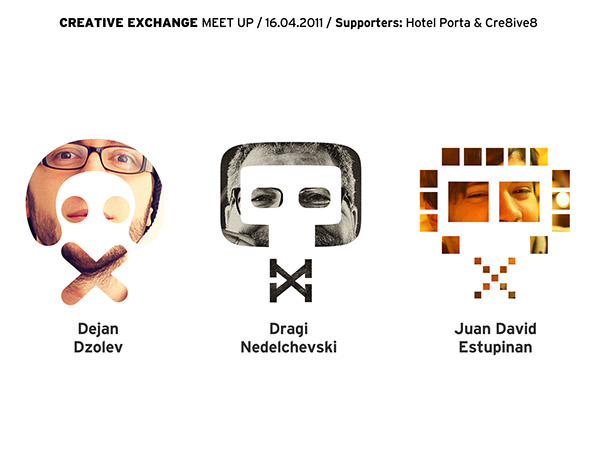 The story continues...


This is only the beginning of the Creative Exchange story. The identity will naturally grow as the group and its activities expand. Hopefully we'll be able to achieve our first goal, to become an organization that will foster the improvement of the creative fields in Macedonia.