Volvo Car Seat Redesign
student project completed March 2011 at Jönköping University in cooperation with Volvo Cars
Project Brief
Volvo wishes to improve existing driver and front passenger seats in Volvo sedans in the following areas:
• the addition of leg cushion length adjustment
• the addition of 4-way adjustment for headrests
• improved seat operation controls
• lighter weight
Design approach
• research safety, ergonomics, production methods & current market
• develop concept based on research findings
• convey Volvo brand
During the research process, looking at typical seat constructions, I question whether all the components are really necessary. Could some of the components be removed, making the seat lighter in weight and less bulky? By making the profile of the seat thinner, the cabin space could be reduced, lowering the overall weight of the vehicle.

In my chosen concept, the supporting metal structure is exposed, eliminating the components on the backside, such as the excess foam upholstery and plastic coverings. The metal structure could be made into a beautiful object in its own right. Thinner chairs often appear less safe and comfortable, but the exposed structure can help make the chair appear strong and safe, giving the user more trust in the product.

I then explored different form proposals, choosing the one that I felt was aesthetically pleasing, and appeared light, safe, and "Volvo" in appearance.
Adjustments to suit 5% female to 95% male.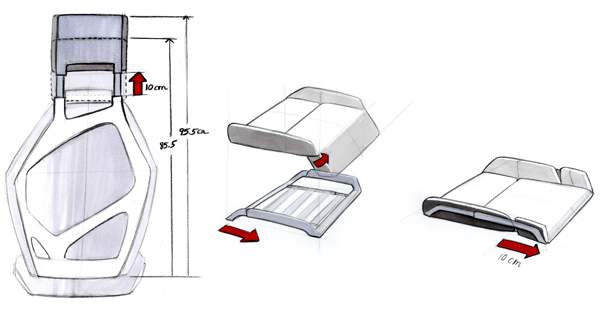 Brushed aluminum is chosen for its strength, lightness and aesthetic qualities. Die casting is an ideal process for the shape and dimensions of the frame, and production quantities. The overall dimensions of the chair are thinner, giving more spacious cabin leg room and/or a shorter vehicle wheelbase, saving on overall vehicle weight and fuel consumption.