Meet the Jennings
The ultimate Tarzhay family....are your new neighbours.

Objective
"Flip the funnel" using fanatics to establish Target in Canadians as part of a heightened experience of an ordinary situation.   
Target
New Couples-M/W, 25-35, mixed ethnicities, minimal college degrees, HHI $58,000-$160,000.  They are employed in professional or other managerial positions in a dense urban setting, but outside of the main downtown concourse. They are in the "doing stuff" phase in life, attending social gatherings andowning "nice" things, especially now that they make more than minimum wage andhave freedom to choose how they spend.  They are still financially conscious so far on household spending. They are seeking a new home in an area where real-estate would be a good investment, and have a well cushioned saving-fund for their first down payment. They won't likely buy a Lazyboy, but a chairpossibly from IKEA, in hopes their new first-self bought pet won't destroy it.  They are excited to experience this chapter in their lives where theycan match their first purchases. The New Couple is slightly fearful of embarrassing themselves, as they have no idea what they're doing in terms of designing their "non-collegesque"home, but can't wait to host their first dinner party with friends. They are new consumers that are mostly familiar with the bulls-eye brand but don't understand what the hoopla is about. 
Strategy 
Canadian Target lovers know that shopping at the bulls-eye store is about taking pride in the simple delights of middle class life.  Target's arrival symbolizes the growing foreign owned store coming to Canada. It promises to bring to Canada all ofbrands and products consumers would find on American store shelves, and to match Wal-mart price-to-price.  Welcome to the new era in Canadian shopping.
Team
This was an interesting challenge working in a group where no one but myself had actually been to a Target store.  Nonetheless, developing strategy and getting involved with concept development.  Excellent character development by copywriter Kay Benedek, and the scenarios perfect hint the complexities of each individual in the Tarzhay family.  Hats off to Josh Bezemer for Art Direction. 
The Jennings are your typical Can-merican Family. Richard Jennings works full time while wife Donna is heart of this family, enjoying the stay-at-home lifestyle and tending to the kids.  She's the heart of this family, because of her motherlyness, but also her insanity.  She doesn't mind waking up at 5 a.m.to wait in line on Boxing Day for a sale, finishing Christmas shopping way before Christmas Eve.  Donna opts for quality over price but still looks for a good bargain, and when she strikes a good deal, the whole family hear her brag about it. Target is definitely an hour-long stop in her monthly cross-border shopping trips. She made sure the household is branded with products you'd find at your typical Target store- Kitchen Aid, Dyson, and Target's very own Archer Farms. Donna fears being judged by other families for having "imperfect" lives, but maybe its their neighbours that should worrry about the madness that comes with this family.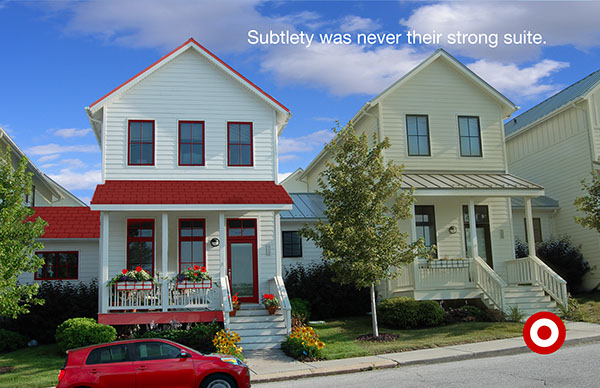 Hysterical writing by Kay Benedek on how the Jennings live their lives, Tarzhay and all. The series of scripts were meant for TVC and online pre-rolls, but potential for a fully-blown storyline exists.