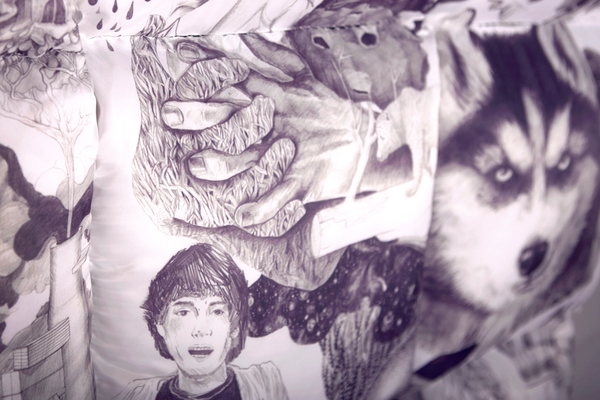 20 pillows (45x45 cm each), 225 x 180 cm

Why is it always so difficult to memorize the dreams that we have during the night? They usually quickly escape out of our minds as if they were sneaking away and hiding the traces. If we could believe that thoughts find materiality then also our dreams might have the material shape as well. Then where do they actually disappear? Might they be stored somewhere? They can visit our minds several times per night, and often they just slip by barely touching our consciousness for a short while.
 The work "Captured Dreams" is an allegoric attempt to visualize the idea of the existence
of pillows that could capture dreams and display them. As though the latent image is revealed during the photographic procession after putting it in developing chemicals...

20 подушек (45х45 см каждая), 225х180 см

Почему всегда так трудно запоминать сны? Они очень быстро ускользают из памяти, как будто заметают свой след, делая вид, что их вообще не было. Если мы способны поверить в то что мысли могут имеють свойство материализоваться, в таком случае и сны способны принимать материальную форму. Куда же они на самом деле каждый раз исчезают? Возможно ли, что они хранятся где-то? Они могут посещать наши умы несколько раз за ночь, чаще всего едва задевая сознание и оставляя легкий след недоумения.
Проект "Captured Dreams" это попытка аллегорически визуализировать идею существования
подушек которые могли бы сохранять и проявлять сны, как проявляется скрытое изображение проступая сквозь эмульсию на фотобумаге при помещении её в раствор...

Exhibited at the Moscow based Tsvetnoy during Sretenka Design Week 2011.