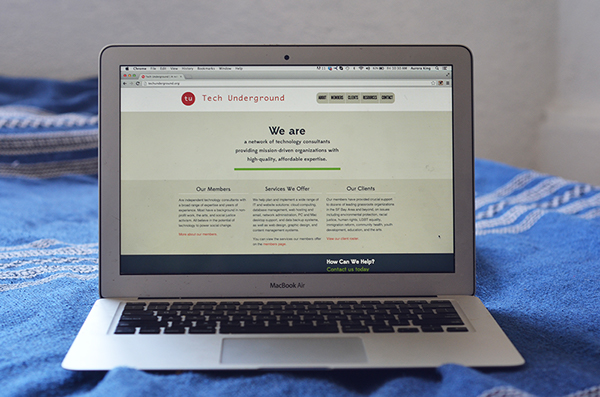 The Tech Underground is a collective of independent consultants doing technology work for the grassroots and nonprofit communities (as well as other clients) in the Bay Area. I've been a member since I started freelancing full time in 2011.
I recently created a new brand and a responsive, WordPress-backed website that works on all kinds of displays and screen sizes. The
new site
went live this month, July 2013.
The collective had never really had a brand. So the brand and colors were where I started, trying out different type and color combinations and sending them out to the group for feedback. 
We wanted something that would say "tech" so I thought a good monospaced typeface (Inconsolata, my favorite programming font, above, and Monaco below) would would be a good basis for the logo. 
Long identified with technology through the world of text-based user interfaces since the early hacker days, the monospaced font says "geek" with no further explanation. 
The first round of color combinations was a little too "Matrix" and seemed to say "90's hacker" more than modern, professional service provider. 
So we moved on to a warmer color palette that included server-terminal green, but only as an accent, substituting oranges and reds.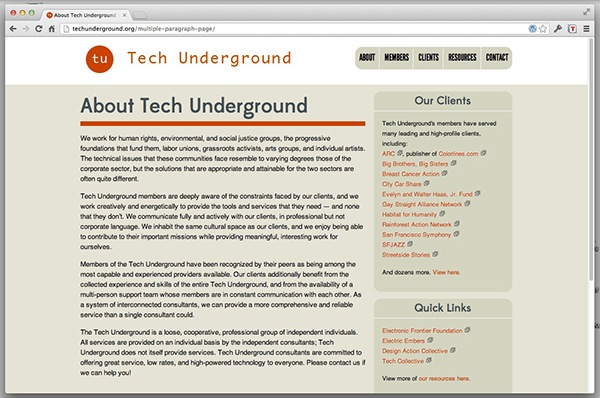 For the Members page, I wrote a plugin called
Magic Tags
that would create a dynamically generated set of tags, which then could be used to sort the list of members according to the services they offer.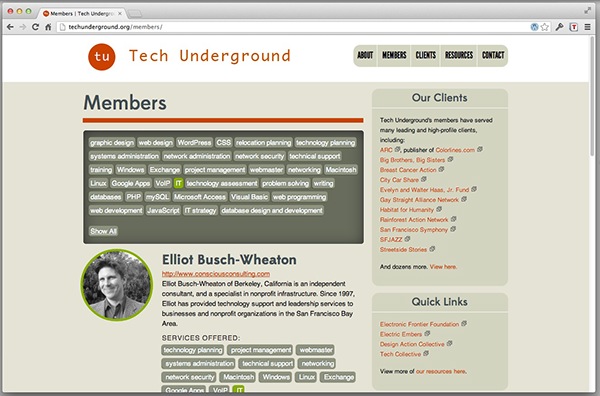 The most important aspect of the site design, on this particular project, was to have it look really good across screen sizes and devices.
This is where the web is headed and one of the things I'm most excited about as a web designer and developer. Here's a few more screenshots at scaled down sizes.