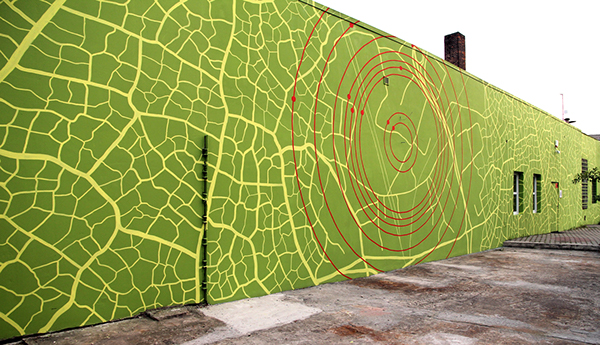 EKOMURAL – mural na Ekobistro Papuamu / ECOMURAL – mural on the Ekobistro Papuamu

Alegoryczna promocja zdrowej żywnosci i ekologii integrująca w warstwie wizualnej strukturę biologiczną liścia z planem dzielnicy Zabłocie i jej najważniejszymi punktami (muzea, pracownie, murale, rzeźby, instalacje).
---
A mix of a leaf and a map of the area Zabłocie in Cracow. The painted red points in the middle of map refers to cultural places located in Zabłocie, such as: museums, galleries, studios, other murals, installations and sculptures in a public space. The leaf structure promotes healthy food and ecology. 

Lokalizacja / Location: ul. Lipowa, Zabłocie, Podgórze, Kraków
Data / Date: czerwiec 2012 / June 2012
Projekt / Project: Aleksandra Toborowicz & Artur Wabik
Wykonanie / Realisation: Paulina Lichwicka, Weronika Kasprzyk, Joanna Róg-Ociepka, Ola Piórek, Karolina Źrebiec, Weronika Piórek, Aleksandra Toborowicz, Artur Wabik.
A series of social murals (
Typomural
, Ekomural,
Mayamural
) executed in Poland in the area of Cracow – Podgórze was nominated in the category "Ethics" in the "Projekt Roku – Polski Konkurs Graficzny (Design of the Year – Polish Design Competition) organized by the Association of Applied Graphic Designers (STGU) in 2012.
--
Mural dla ekobistro Papuamu na krakowskim Zabłociu ma łączyć w sobie dwie funkcje - z jednej być wizytówką miejsca, z drugiej zaś wpisywać się w szerszy kontekst budowania nowej tożsamości całej dzielnicy. Elementy graficzne i kolorystyka, zaczerpnięta ze struktur roślinnych odwołują się do misji ekobistro, a wpisanie w nie topografii Zabłocia było wyrazem naszej sympatii do dzielnicy w której mieszkamy i tworzymy. Koncentrycznie ułożone okręgi w środkowej części kompozycji to nasza osobista ekliptyka dzielnicy, po której poruszają się wszystkie ważne dla nas obiekty na Zabłociu - muzea, galerie, pracownie, a także inne murale, rzeźby i instalacje w przestrzeni publicznej. 

Aleksandra Toborowicz i Artur Wabik
MAKING OF, by Michał Pałasz