Mantle Group is an established group of companies and trusts owned by Godfrey and Jenny Mantle, which has been operating in Queensland since 1979. The group's business divisions spread across property, hospitality, green energy, education and agriculture throughout Queensland, New South Wales and in Bougainville, Papua New Guinea.
We wanted the homepage to be something a little unique for a corporate site, considering the diverse range of interests the Mantle Group are involved in. So a full-page image gallery was developed–viewable on all web browsers and mobile devices–which included a nice amount of copy to allow for a decent SEO value. This solution let the client to add as many slides as they wished and swap the order of the slides, offering both a visually interesting homepage and the ability to choose what information to convey as a priority. The images were loaded in the background once the initial slide had loaded into the browser, which meant the audience wasn't left staring at a blank screen on even mobile devices. The gallery automatically slide from slide to slide and uses some obvious arrow-navigation as well as the main navigation in the header.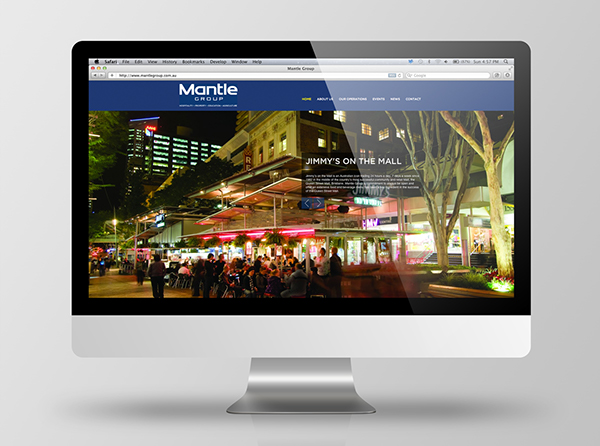 The website was built around the Twitter-Boostrap framework and the WordPress CMS engine. This allows a fully content managed website with a great ease of updating and expanding with auto-resizing on mobile devices such as the iPad and iPhone.
The standard site page used a variety of elements that could be uniquely modified per-page such as a full-screen-width image gallery and side-bard sub-navigation and promotion 'banners'.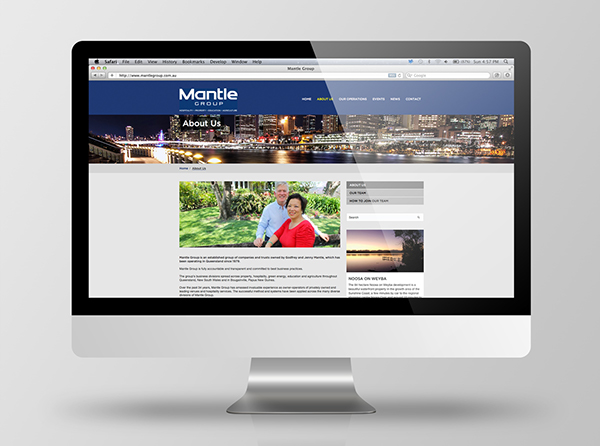 Category / Catalogue Pages
Intermediary pages –often called catalogue pages–allow the client to show the included services or products in stackable full-column or 1/3 column elements as shown below. This solution allowed for a balanced design when showing an odd or even number of services / products. It also allowed certain items to be given a visual priority which assists in ongoing marketing.
We wanted the news section to be interesting but most importantly help convey the diversity of the company. This was achieved by using a 'masonry' jquery solution, showing the news items in various formats in a fluid grid filling the screen. This allowed for the use of video, images, galleries, text only or small quotes as news items.
The contact page uses a full-width live Google map and custom icon to show the companies head office. This allows a useful tool especially when using the site on mobile devices as the map can open directly into the devices mapping app.