Prudential | The Challenge Lab
Role: Creative Direction
We set out to change how people prepare for retirement. We partnered with professors from leading universities to create The Challenge Lab, a destination where people can understand their behavioral challenges and learn how to overcome them. Through videos, experiments, expert articles and over 60 interactive pieces, the site breaks down five key challenges. It explains the science behind why we crave instant gratification. Why we put things off. Why we follow the herd. Why we misjudge risk. And what it means that we're living longer. 

The Challenge Lab is a platform where people who may not know anything about finance can understand something even more important: themselves.
Awarded:
2013 Cannes Titanium Lion
2013 Cannes Silver Cyber Lion
Early in the conceptual process we set the mandate for a device agnostic user experience. The platfom and CMS had to support all devices. With a mobile first approach we were able to achieve a fluid experience across all devices. Working from a 960px grid with several key break points allows for an easy viewing experience, no matter which device is accessing the platform.
Birdseye View of 5 Main Challenges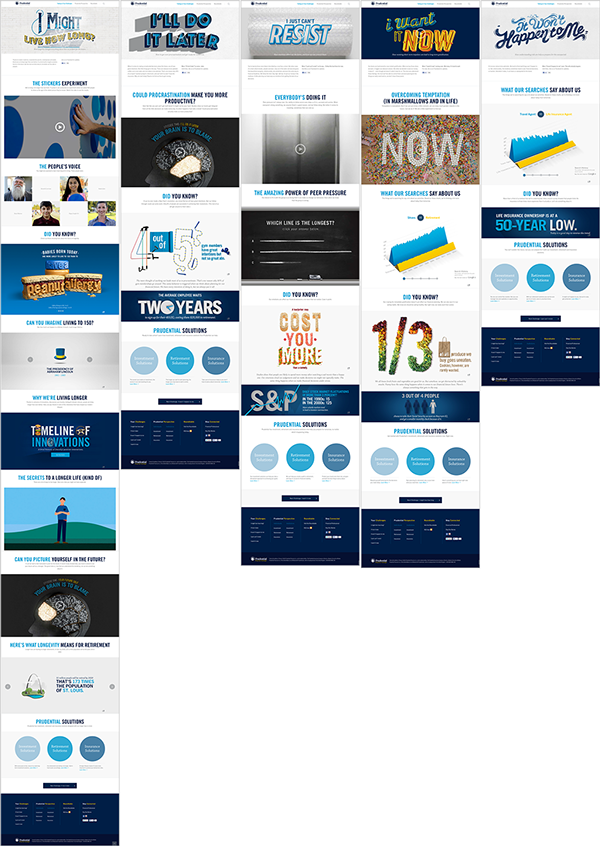 To grab the viewers attention we wanted to call out facts and stats in a more creative aesthic way.
Chris Labrooy
helped us achieve the 3D typographic treaments we envisioned.
Craig Ward
helped us achieve a more photographic hand made type treatment by using anything from fresh produce and vegatable to candy and gym equipment.
With the help of
I Love Dust
and 
Serial Cut
we were able to produce beautiful title cards for our long form documentary style films that explored the human behaviors that drive our decisions and actioins entitled -  "Your Brain is to Blame". We partnered with leading behavioral economists to conduct experiments and tell powerful stories for why we do what we do. 
We created a series of features which allow users to explore and learn. We leveraged Google Analytics to create a chart which illustrates the impulsive nature of buyers across the U.S. showing really what our top priorites are. Other tools such as interactive timelines help our users understand why and how we're living longer and should plan for a longer retirement. 
In addition to interactive and video content, we created a section on the platform for leading academics in the field of behavioral economics to publish blog style articles relevant to our mission. The Roundtable is the essence of the Challenge lab. A place to discover, breakdown and understand the challenges that we all face.
Financial Advisor Finder:
We created a tool leveraging google maps to help users find a Prudential Financial Professional closest to them.
Neil Heyman & Kevin Brady - ECD
Jerry Hoak, Ray Del Savio, Lucas Hearl - ACD
Karen Land - AD
Brian Eden, Ant White, Tara Lawall - Copywriters
Ben Downard, Ben Grube, Devin Croda - Designers (The Power Houses)
Eileen Tang - Sr. UX Designer
Amber Wimmer - Sr Producer (#1 Hustler)
Andy Hatch - Tech Producer (#2 Hustler)
David Justus - Tech Director
Ted Florea, Zach Foster, Josh Millrod - Strategy
Paul McGeiver - Photography
Brian Yasko, Heidi Rick - Account (Client Wranglers)
- - - - - - - - - - - Partners - - - - - - - - - - - - - - - - - - -