Projet pour un livre sur le théme de l'exploration, réalisé par Shoot Studio.
Cette série est une exploration du mouvement dans le métro de Montréal. 
Les images on été créées avec un Horizon, un appareil argentique qui posséde la particularité d'avoir une focale qui balaye la scéne pour créer un panoramique. En combinant le mouvement de la lentille avec une pause longue, le déplacement de mes sujets ainsi que mon propre déplacement, j'obtiens des images surréalistes aux perspectives trompeuses.
Ce livre présente plusieurs séries d'expérimentations photos réalisées par les 11 photographes de l'équipe de Shoot. En édition limitée (500 exemplaires), chaque volume était personnalisé au nom de son destinataire. Les créatifs ayant collaboré à ce projet ont mis en symbiose leurs talents pour repousser l'exploration photographique dans un cadre artistique.
Les images n'ont pas été retouchées.
Kodak portra 800, négatifs scannés numériquement.
-
Project for an experimental book with Shoot Studio.
This série is an exploration of movement in the Montreal subway.
I created these images with an Horizon, a film camera whose characteristic is to have a mechanical swing-lens that scans the scene to create panorama. By combining the movement of the lens with a long exposure and deplacing myself around moving subjects, I get surreal images. 
This book presents several series of experiments photos taken by 11 photographers from Shoot. Limited edition (500 copies), each volume was personalized with the name of the recipient. Creative contributors to this project have symbiotic talents to push the photographic exploration in an artistic setting.
The images have not been retouched.
Kodak portra 800, digitally scanned negatives.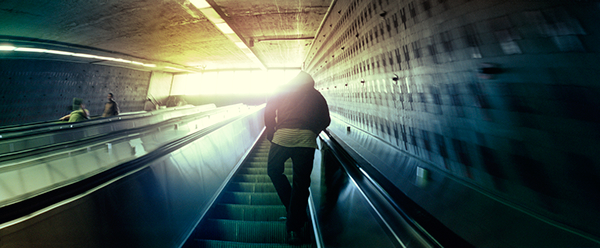 Photographies du livre par / Pictures of the book by - Hans Laurendeau