We are excited to announce Dutch artist Levi van Veluw's first official publication.
- Special book with rotating wooden block, edition of 35 +AP €1000
- Book with wooden block edition of 1000 € 69
- Special print + Signed book edition of 100 +AP € 350

Special book This very extraordinary book can be placed inside a wooden holder. Once connected with the wind-up mechanism, the wooden block inside the book will slowly rotate. 
For more info contact info@ronmandos.nl
Origin of the Beginning offers an overview of all photographs, drawings, installations, sculptures and videos produced by Levi van Veluw from 2006 till 2013.
This very extraordinary book is an artwork in itself. Besides beautiful artwork reproductions,
the publication contains a special handmade wooden block, which has been placed inside a cut out square hole that perforates the book. Visible from the front cover throughout the whole publication, this wooden element refers to a number of van Veluw's art works and can be considered an essential base element by which his work is built up.
Edition: Binding sewn bound  Size: 22,5 x 33cm Pages: 192 NUR: 640 ISBN: 978-94-91525-12-4 Year: 2013 Price: € 69,- Author(s): Levi van Veluw  Texts by: Gijsbert van der Wal // Graphic design by: http://www.snitker.nl/  publisher: Komma/D'jonge hond
This large format book is made from dark brown fibred cardboard with embossed characters printed on high quality 150 g/m² paper and includes specially fold-up pages.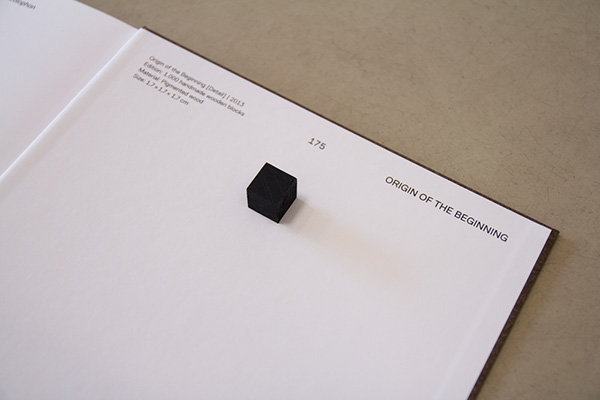 Special edition: signed book with high quality print. For more info contact info@ronmandos.nl