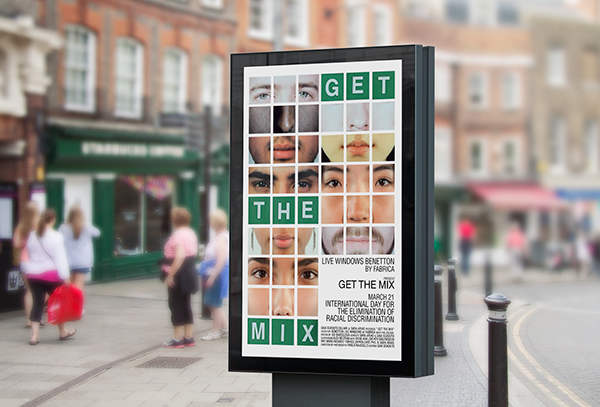 Benetton Live Windows

is an initiative by

Fabrica

, the research center of Benetton's communications that promotes the creation of a new communication between people and the stores. Thanks to the cooperation with the most important cultural and educational institutions, it promotes young talented designers, publishing their works on the most important mediawalls in Benetton stores all around the world.
Thanks to this initiative we have participated and won the competition for the "

International Day Against Racial Discrimination"

2012

.
We have developed a 20 seconds video based on the idea that join the races enrich us, that together we are better .
We used the Rubik's cube, the famous puzzle that, once solved, has 9 squares of a face in the same color and turned it into a great game against racial discrimination, whose purpose is to create faces with features of different ethnic groups.
The video is still shown in the stores in Barcelona and Milan.
The project was published also on the LIVE WINDOWS page from Fabrica, on Gallery Project of IED BARCELONA, on the homepage of UNHRC, on the online magazine FRESHLAND etc..