2 ΠΡΟΤΑΣΕΙΣ ΓΙΑ ΤΟ ΛΟΓΟΤΥΠΟ του Ινστιτούτου Αστρονομίας, Αστροφυσικής, Διαστημικών Εφαρμογών και Τηλεπισκόπησης (ΙΑΑΔΕΤ)
[en] TWO LOGO DESIGN PROPOSITIONS  for the Institute for Astronomy, Astrophysics, Space Applications and Remote Sensing (IAASARS)
[es] Dos proposiciones de diseño de logotipo para el Instituto de Astronomía, Astrofísica, Aplicaciones Espaciales y Teledetección (IAASARS)
[el] Έμπνευση είναι η δίνη που σχηματίζεται από την σπειροειδή μορφή που έχουν συνήθως οι γαλαξίες και η γαλακτόχρωμη φωτεινή λωρίδα που σχηματίζεται από πολλά αστέρια και διασχίζει τον ορατό από τη Γη ουρανό από την μία πλευρά του ορίζοντα μέχρι την άλλη.
[en] Inspiration is the vortex formed by the spiral form that usually galaxies and milky light strip formed by many stars and crosses visible from Earth sky from one side of the horizon to the other.
[es] La inspiración es el vórtice formado por la forma espiral de las galaxias y que por lo general tira de luz lechosa formada por muchas estrellas y cruces visibles desde la Tierra desde el cielo un lado del horizonte al otro.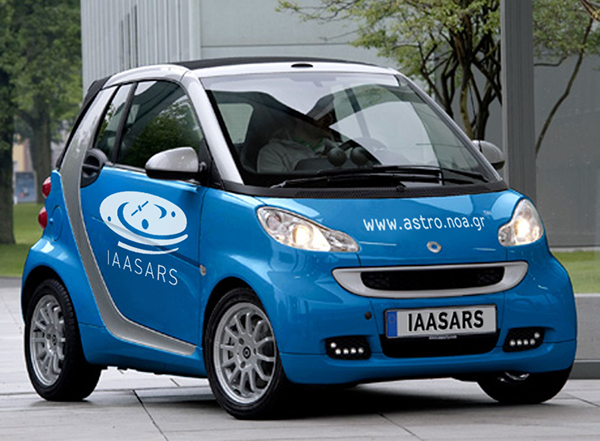 [el] Η έμπνευση είναι το ηλιακό σύστημα, δηλαδή οι ελλειπτικές τροχιές που σχηματίζουν πλανήτες και διάφορα ουράνια σώματα περιφερόμενα γύρω από τον ήλιο, καθώς και οτιδήποτε τεθεί σε τροχιά γύρω από αυτά π.χ. δορυφόροι.
[en] The inspiration is the solar system, ie ellipses forming planets and various celestial bodies stray around the sun, and everything in orbit around them, satellites for example.
[es] La inspiración es el sistema solar, es decir, elipses que forman los planetas y cuerpos celestes diferentes desvían alrededor del sol, y todo en órbita a su alrededor, los satélites, por ejemplo