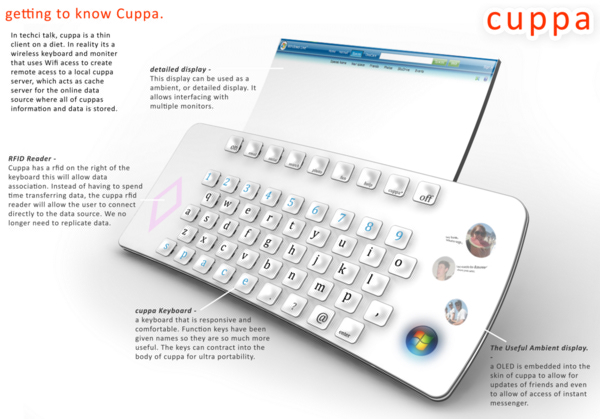 Passion

My passion is socializing, I love to go out and party. Social networking is now key to my social life and while I can do a little on my phone, the device is too small and too slow. Desktops are always in uncomfortable and unsocial areas. This is why I developed Cuppa to extend the traditional use. We don't need a full OS, or complete functionally, I just want to socialize, now I have a device that can free me from system updates and file organization.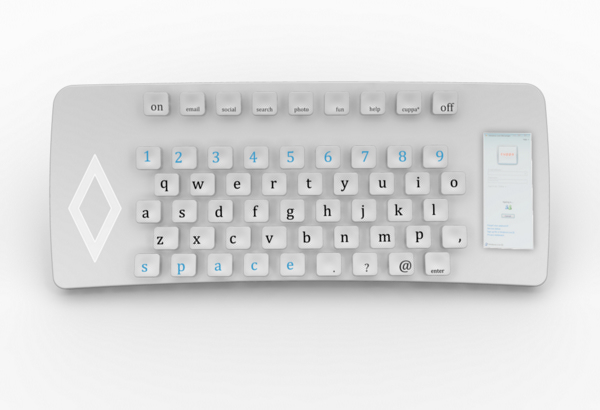 Users' culture and lifestyle

My audience currently visit there favorite social networking site up to 20 times a day, with over have of the social community feeling lost if they haven't connected. All my users want to do is to interact, engage, plan and look back. They aren't interested in organizing, uploading and sorting out files, they want to interact with the artifact. To this demographic they don't want waiting screens, they don't want to have to search. Everything must be at their finger tips, explorable and social. This consumer group understand that social content is king, they understand that a busy online social live leads a buyer and more fulfilling social life. Although this group don't want to be tired to dogma of 'computing', they just want to GTD (get things done).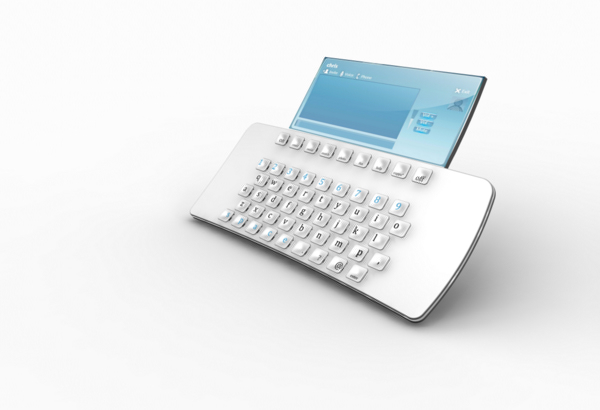 Market Viability         Theproduct creates a real connection with the user and there socialcircle. My demographic aren't concerned with updating the software andjust want a product that runs, the plus to Cuppa is that you don't needyour mates to have one, but your mates will be envious. The ability toturn your boring TV into a more easily interactive experience appealsgreatly to my market group. Although it has been suggested that theX-Generation have mutated thumbs that can text faster, this just isn'ttrue. This is why the full keyboard, and high definition screen are soneeded, my market group just don't want to compromise.                  Size         The Cuppa is 266mm wide X 111mm deep X 20mm thick                  The Cuppa home server will be built into existing Windows Home servers.        The Cuppa Sensor will in the form of a sticker that could be hidden onany device. Some devices may require an extra connector to help streamthat data from the Cuppa.                  Overview of Design        The Cuppa is most innovative as it's a complete mash up of what'salready existing. Its makes full use of extra monitors and TVs in yourhome to extend the products use. This mixed with the fact that all datais stored on the Windows Live service allows for data to be easilyorganized. The Cuppa home server technology is the part that allows forthis system to run super fast. Lastly Cuppa is so innovative as it willget you out of your dark dingy office.                  User and Context        The users will mainly use this in the context of social networking andrelaxing, this will encompass connecting with friends, uploading photosand posting to Life Blogs.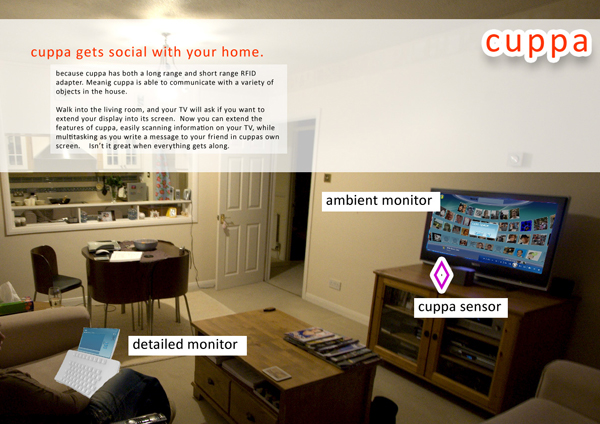 Scenarios of Use         An example userwould be planning to go clubbing on Friday night, they would get anupdate at work in their windows live messenger in the left of theirCuppa keyboard. They then go eat there dinner, while reviewing the topclubs in the town. The user has a leaflet from a club promoter which isembedded with a Cuppa Chip. This is read on the left hand side of theCuppa which now in the living room, opens up the club information onthe lounge TV. The user now goes home after a awesome night, they placethere digi camera onto cuppas Cuppa Sensor, this triggers an uploadfrom the Wifi SD card, straight into their live space. The user now isable to tag and sort the images, remembering with their mates about howgreat the day was.                  User Interface.        The user interface extends current Windows operating system, andcreates a new interface that is location aware. When you have Cuppaclose a very limited striped interface will be shown in the right ofthe device. When the Cuppa's screen is open this side screen will addauxiliary data to support the main screen. Then when Cuppa comes incontact with a larger screen Cuppa will then be able to further expandthe interface. Think of Cuppa as a fractural of interfaces.                  Aesthetics        The aesthetic is very simple and will try to blend will into the usershouse. The interaction and flow between monitors will be well animatedto give an almost breathing sense to the Cuppa. A deeper emotionalconnection will be made with the device for the freedom and connectionsthat it will enable.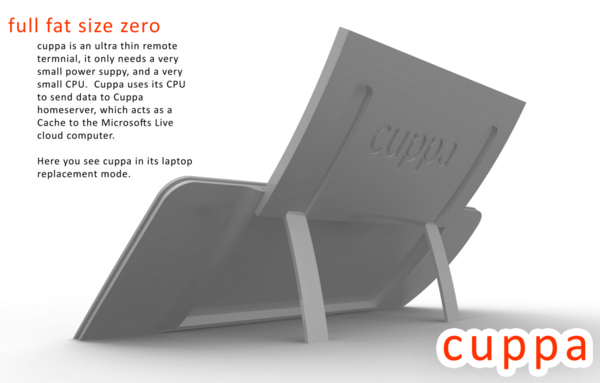 Technical Aspects         Cuppa takes fulladvantage of home and web based servers, cuppa is a remote terminalthat allows access to your clouds of data. This abstraction fromcontent and Operating system, means that the user can now be concernedwith getting things down. This will enhance the overall PC experienceas the user now is only concerned with connecting, and NOT virusscanning!                  Ecology        By putting the data into external data houses, these can be located inareas of renewable energy while only the right resources can beutilized. The ability to be context aware will allow for automatedswitching on and off of devices, as the user walks out of the livingroom the Cuppa will turn all devices to hibernate, and stop the powersucking wall warts.                  Manufacturability        My design is a simple two part mold, little thermal cooling is neededas there is very little processing being completed inside. The keyboardhas large gaps which will allow the components, and you lap to breath.By using Solid state hardware the device will make no noise, and themonitor will use a OLED which will reduce the dreaded TFT frequencybuzz.