24 Hours of Booty 
Sponsorship Package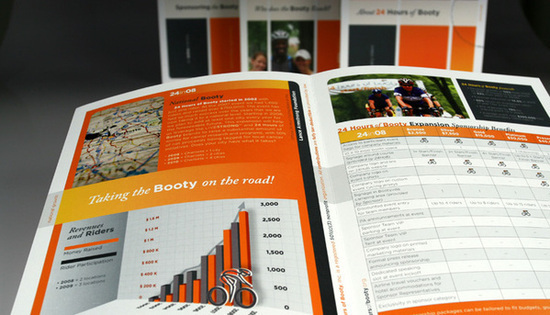 Winner :: 2008 AIGA BOOM! Awards for Promotional Design
24 Hours of Booty is the one and only 24-hour road cycling charity event in the country. The official 24-hour road ride of the Lance Armstrong Foundation, this unique and exciting event is fully supported on a traffic-free loop. The event originated in 2002 when one man set out to cycle for 24 hours to raise money for the LAF. He set his sights on a three-mile loop of roadway, nicknamed the "Booty Loop" by local runners, cyclists and sports enthusiasts, in Charlotte, N.C.'s tree-lined Myers Park neighborhood. He completed his mission and started a movement.
Ordinary Riders Extraordinary Cause ::
24HoursofBooty.org
This project was designed at Eye Design Studio in Charlotte, NC.