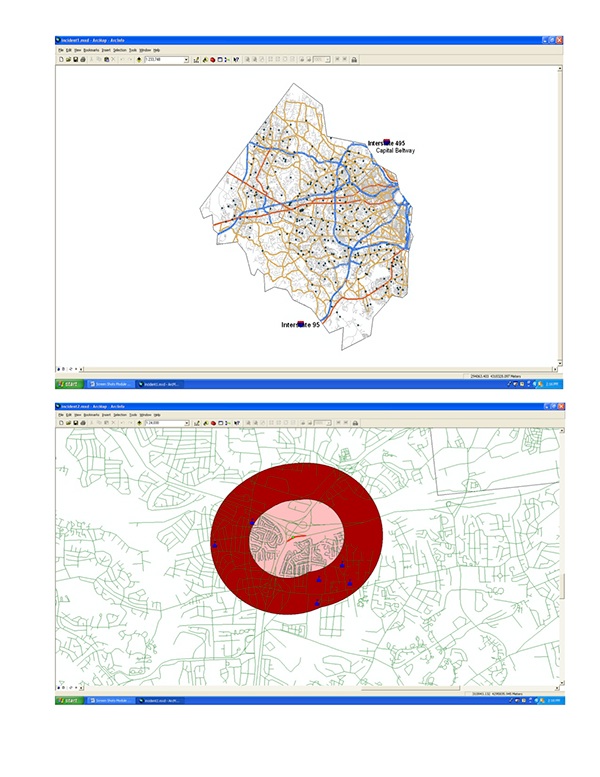 According to the Material Safety Data Sheet (MSDS), black powder ignites on its own at 867 degrees Fahrenheit. However, it is highly sensitive to flame and spark. The sheet directs users to keep the substance segregated from heat, sparks, open flame, impact, friction, and static electricity. Black powder is a division 1.1 explosive, which is defined as one having a mass explosive affect that ignites the entire load instantaneously. Because the black powder in this accident was not heavily encased, one-half mile surrounding the incident requires evacuation. This area includes 23,390 households.

The Incident Commander (IC) has requested the name of the closest high school shelter in the southeast quadrant, anticipating this facility will be better equipped to handle large numbers of people. Map 2 shows that a larger percentage of the residential buildings in the evacuation zone are located in the southeast section. The closest high school is Robert E. Lee. In addition, households from the southwest sector will use Lynbrook Elementary School as their evacuation point, due to its proximity.

The landing site in map 3 was recommended based on the apparent availability of an area free of obstructions, and its proximity to both the accident scene and a feeder road. However, due to the volatile material involved, engines and fuel may need to be kept further from the incident area. The landing area is designated at the pilot's discretion, in coordination with the IC.
Three detour routes have been recommended. Route 1 will close the intersection of Henry G. Shirley Memorial and Edsall, and the intersection of I-95 and Franconia. The total route length is 3.5 miles. Route 2 will close Van Dorn and Franconia, where they intersect I-95, and will cover a distance of 3.8 miles. The final detour will shut down the intersections of Braddock and the Beltway, and Interstate I-95 and Alban.