This project aims at creating the highest possible living standard, in spite of the guidelines, which suggested quite intensive division of the flat into single rooms (for ex.: a 120sqm flat should contain 5 bedrooms). Bearing in mind those expectations, for each flat I provided a

capaciou

s open space consisting of a living room, kitchen and dining room. 
Whenever it was possible, the windows in the living rooms were placed towards the south. However, when they are north-facing, they  front onto the green courtyard, provading a wonderful view.
The facade, seen from the street, is covered in Euronit Integral Roof system tiles, which guarantee the aesthetic unity of sloping roof and walls. It also makes the building look less invitind to provide safety.
The facade facing the courtyard, covered in white plaster, so that it looks more approachable, cosy and bright.
In the middle of the courtyard there is a small hill, with bush and benches on top, serving as a meeting place for those looking for a peaceful, soothing rest, especially elderly residents. It also makes the  courtyard look more like a natural park.

The playgroud for children is located is close proximity to the hill, which in this case serves as a safety barrier, cutting the children off the street and its noise.
On the highest floor the residents enter their flats through the winter gardens, which end with spacious terraces, also accessible from the living room.
The glass walls of winter garden and terrace optically enlarge the space of the open area (living room, kitchen and dining room) and connect the interior with nature.
(Below - the plan od the highest floor)
Below: standard flats design - 120sqm (with the winter garden), 80sqm, 65sqm (with the winter garden), 50sqm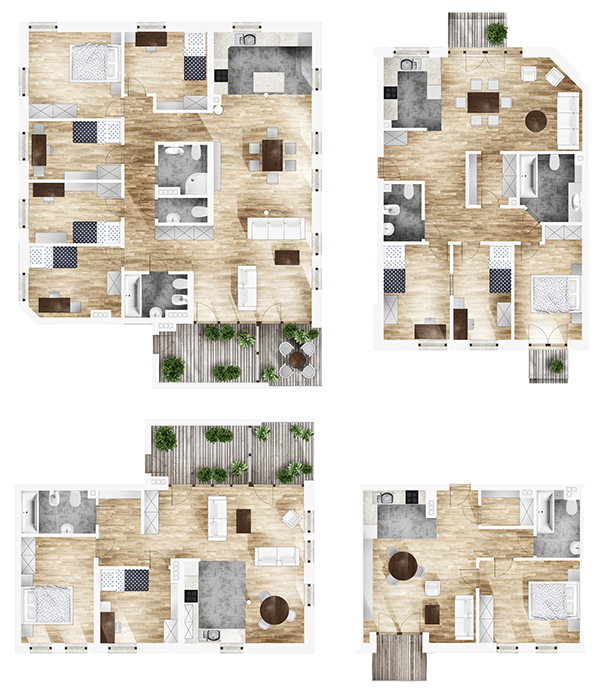 Below: the plan of repetitive floor
Below: the plan of the ground floor