This is our entry for the category Print for the Young Lions Competition Hellas 2013. Together with Giannis Petris aka John TheGraph we designed this poster for the street publication magazine "Shedia" that is sold by specially granted vendors.
Street publications are independent newspapers and magazines that provide unique employment opportunities for people experiencing poverty and homelessness. Vendors buy copies at a price of 50% or lower than the cover price, then sell them, keeping the proceeds.
The brief was to advertise the street publication magazine Shedia and introduce it to the public in order to  make it buy the magazine but without showing pitty to the vendors.
We used a word game between the greek words "σχεδία" that means raft and "σχέδια" that means plans. With a change of the written accent the message changes and becomes optimistic.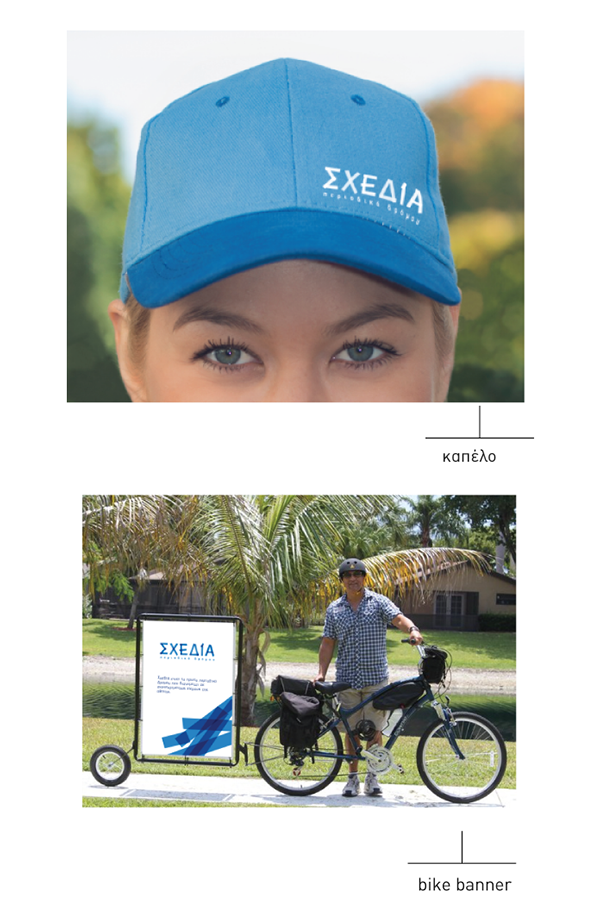 More detailed explanation above in greek:
Ικανοποίηση των ζητουμένων του brief
Η προτεινόμενη εταιρική ταυτότητα διέπεται από μια νέα οπτική των πραγμάτων.
Είναι αισιόδοξη, ελπιδόφορα, θετική.
Η γραμματοσειρά που σχεδιάστηκε για τη νέα εταιρική ταυτότητα του περιοδικού δρόμου " Σχεδία" συνδυάζει την σταθερότητα μιας ισοπαχούς γραμματοσειράς με την ιδιαιτερότητα μιας handwritten. Το λογότυπο αποτελείται από λωρίδες που μοιάζουν με σανίδες και σχηματίζουν τη λέξη Σχεδία. Η αίσθηση αισιοδοξίας ότι η μεταμόρφωση μπορεί να επέλθει αποδίδεται με το γαλάζιο, το οποίο παραπέμπει στο χρώμα του καθαρού ουρανού και της γαλήνιας θάλασσας.
To  concept πίσω από τον επανασχεδιασμό του αρχικού λογοτύπου συνδέεται άρρηκτα με την δομή μιας σχεδίας, η οποία είναι ένα αυτοσχέδιο, πρόχειρο κατασκεύασμα φτιαγμένο συνήθως από ξύλινες σανίδες, υλικό που της επιτρέπει να επιπλέει στο νερό. Κάναμε έναν παραλληλισμό της κυριολεκτικής έννοια της σανίδας με την μεταφορική της σανίδας σωτηρίας. Θεωρούμε ότι η "Σχεδία" ως μέσο κοινωνικής επιχειρηματικότητας, λειτουργεί ως ώθηση για τις ευπαθείς ομάδες γιατί τους κινητοποιεί να πάρουν εκ νέου τη ζωή στα χέρια τους, να αισθανθούν χρήσιμοι στην κοινωνία και στον ευατό τους και να χρησιμοποιήσουν την ευκαιρία που τους παρέχεται ως τη δικιά τους σανίδα σωτηρίας, μια αυτόβουλη ενέργεια.
Θέλαμε να τονίσουμε τον χαρακτήρα της ενότητας, μιας και οι σανίδες-κορμοί συνδέονται μεταξύ τους για να σχηματίσουν την σχεδία, επομένως και οι άνθρωποι συνδέονται με το συνάνθρωπό τους την αλληλεγγύη,
Εξελιξιμότητα προτεινόμενης εταιρικής ταυτότητας
Πέρα από τις μεμονωμένες εφαρμογές που παρουσιάζουμε, το λογότυπο θα μπορούσε να εξελιχθεί μέσω επιπλέον εφαρμογών όπως T-shirt, flyers, ιστοσελίδα, γραφική ύλη, σχετικά έντυπα. Στις ψηφιακές μορφές τύπου animation, web banners, animated .gif θα χρησιμοποιούσαμε έντονα χρώματα, animation κάποιων στοιχείων που θα προέκυπταν από το λογότυπο με multiply blending mode ώστε να κινητοποιηθεί το συναίσθημα που προκαλεί η ένταση του χρώματος και η αλληλεπίδραση των στοιχείων.