WMC Fest III Poster Illustration
I actually hadn't ever heard of WMC Fest, and actually hadn't heard of any types of these events so going was an eye opener. I was very new to design and illustration a year ago I suppose. So now I'm becoming a bit more of a part of the community and couldn't be happier.
Below is a lot of the process, revisions, close up detail shots etc so please check it all out and click the images to make em full size to see the texture and detail.
The idea was to show the relationship between Popstache and WMCfest. Popstache was based out of chicago and wmcfest was happening in cleveland. The original idea was two hipster type kids moshing, one from each region. We took it a little further and had the shapes of the states bumping fists, a bit more kind. Drinking beers and doing stereotypical things to the cities.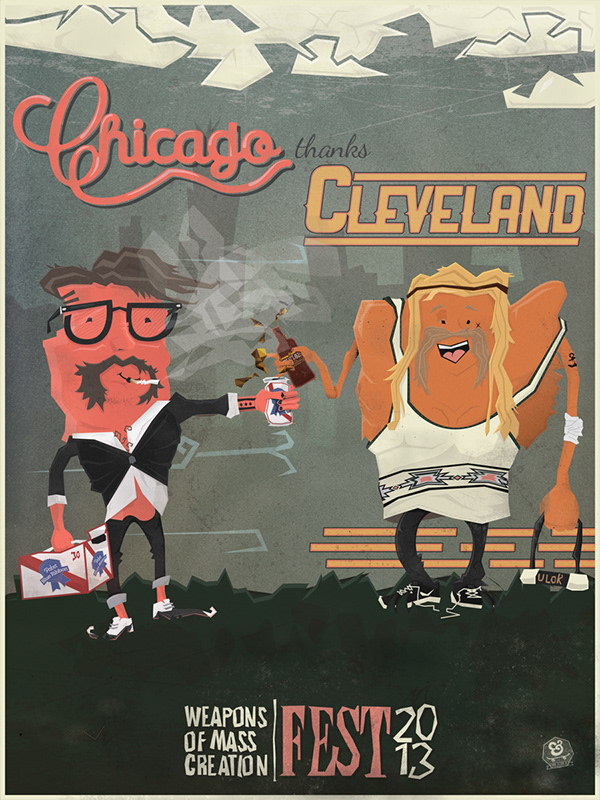 Although we didn't find time to get the posters printed (deadlines, woops). I found the time to get a few quick smaller 8x10's printed to give out at the show, as a large form business card. The prints came out real nice, nothing fancy just a digial print on a matte paper. In fact I think I'll do something similar again this year.
Photos by the wonderful

Monica Justesen Photography

.
You can thank her for not having to look at crummy iPhone photos.