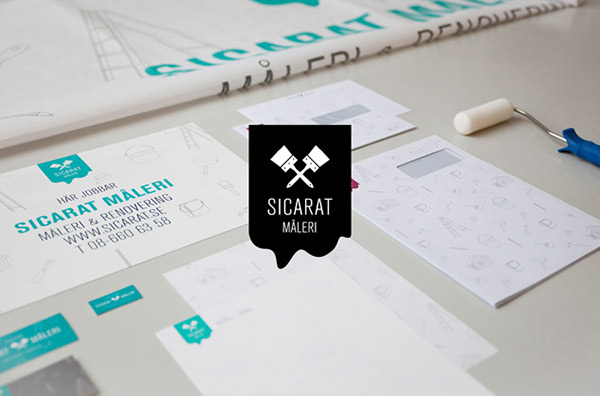 Branding for a painter & decorator
in Stockholm
Sicarat is a high end decorator with a very strong resumé of quality projects under their belt. They have been around for over 30 years. Sicarat contacted us because they needed a look that matched their level of quality. They wanted a new platform to grow from and to reach new markets as well as reaching a new younger generation.
We set up some core values and words to work from:
Personal
High quality
Simple
Modern
Youthful
Functional
These values put the foundation of the branding. We wanted to keep Sicarat personal and simple with a youthful appearance that still spoke of good quality.
A problem that we identified was their previous lack of information and communication. For example they had never had a sign on their office, no branding on their fleet of vans, and no logotype or address on letters were printed. We wanted to introduce some new ways for them to reach new potential clients. We designed vans, signage for building sights, stickers for tools, setting up Facebook and of course a proper website with a quarterly newsletter attached to reach new client but still keep the already existing ones. 
We also produced a full set of guidelines for every detail including photography guides, art direction, logotype usage and tone of voice. Also new imagery was shoot through out the project.
Deliveries for the project included
Logo & mark
Icons
Stationary
Website & Newsletter
Guidelines
Signage
Vans
Photography
Creative & Design Direction by Dalston
Sofia Darke & Magnus Darke
Code by John Persson
Photo by Emmy Polbratt