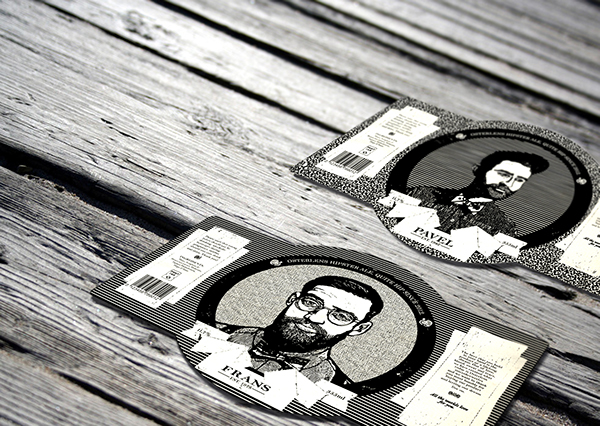 During the early summer of 2012  three young men settled the matter and realized their dream of starting a microbrewery on Osterlen in the southern parts of Sweden.During the spring of 2013 they completed their first Beer -

"Osterlens Hipster Ale"

, a pale ale whose title flirts with people's prejudices about the men behind the product, and I received the pleasure of designing labels and packaging for them.
The beer is available in three different versions with different characteristics and these are illustrated by different names and portraits on the bottle's label. Frans, Ivan & Pavel. Three young men who in some ways are very similar to each other, but also very different - just like the beer that bears their name.
The bottles are made from recycled glass and the labels are printed on FSC certified paper from sustainable forestry. Since sustainable development is a key issue both for me and the brewery, we have gone the extra mile to get permission to print the labels with soy ink, and distribute bottles in an environmentaly firendly box. The beer is also distributed to its outlets by bike - all to reduce our environmental impact.
On each one of the bottles you can also read the boys humble thanks to all their customers:




"The beer that you hold in your hand is the product of a lifelong dream. Out of love, blood, sweat and tears we have created what today is Osterlens microbreweries and we want to thank you most humbly for buying our product and letting our dream live on. "


- And in the same way, I humbly thank you for taking the time to read and watch this project.