Hearts to Japan / Japan Aid T-Shirts
GoodInk's Relief Effort for Japan.
Being a company based on giving away half or more of our profits to charity, it made sense that we did our best to assist the relief efforts in light of the tragedy to befall Japan.

We were able to rapidly mobilize and by March 12th we already had our first design ready for sale.

We created both the "Hearts to Japan" and "Japan Aid" shirts and have donated 100% of the profits from the sale of these shirts to World Vision's Japan relief effort.  2 of the first shirts on the market to donate in this way.

To date over $1000 has been donated.  A small amount that will hopefully go a long way.

Hearts to Japan
A print featuring icons of the city flags of 4 of the harder hit areas of Japan, Fukushima, Sendai, Ichihara and Kesennuma.


Our hearts definitely go out to those who are suffering in Japan.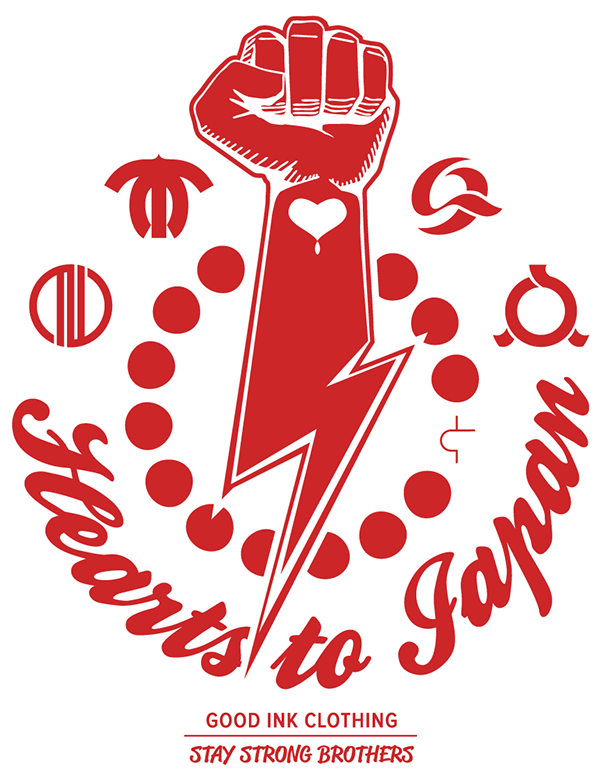 JAPAN AID
The shirt that keeps giving. This shirt honors the famous QR code that so many Japanese youths use to access their favorite information via their super advanced cell phones... a technology that we are just starting to get hip on here.
The QR code on the shirt leads to yet another opportunity for
donation as it send you straight to World Vision's Japan Relief donation page.