Several months ago I had the pleasure of meeting Ann while on a research trip to Kenya's Central Province. Ann, a 16-year-old student at Mwituria Secondary School, is one of the 17 million Kenyans that lack access to a safe water source.
Ann's daily routine involves waking before dawn to collect water for her entire household. Each morning Ann walks four kilometers along a dusty road to fill a jerry can at her community's only water source – a stream. She then carries the 20-liter can, weighing 40 pounds, atop her head and walks the four kilometers home. The trip takes Ann three hours. Once home, Ann immediately rinses, dresses and begins her two-kilometer trip to school – that is if she had enough water to wash her school uniform the evening before.
Ann's story is not uncommon. It is a story shared by millions of women and school-aged girls. According to the UNICEF/WHO Joint Monitoring Programme for Water Supply and Sanitation, in a single day, women spend 200 million work hours collecting water for their household. The result: lost productivity, hindered educational development and persisting gender disparities.  
However, water collection is only part of a larger picture. Poor infrastructure, such as the absence of girl-friendly sanitation facilities, and the shortage of affordable sanitary supplies also contribute to the persisting gender imbalance in Kenyan secondary schools. Further research on this issue has shown that upwards of 800,000 girls in Kenya miss a week of school per month due to inadequate sanitation facilities and the lack of sanitary supplies. 
While significant strides have been made in recent years with regard to women's rights and universal access to primary education, deeply entrenched social structures and economic volatility have resulted in slow and erratic progress. Today, one in four children in sub-Saharan Africa are not in school – amounting to 45 percent of the global out-of-school population.
The majority of these children are girls, who, like Ann, face inequalities in access to resources and opportunities.
Access to Sanitary Supplies can be a Universal Reality. Period.
How might we create greater access to affordable sanitary products in low-income countries using knowledge sharing systems?
We live in a world of stark contrast: one in nine people live without access to safe water, yet one in seven people is an active Facebook user; half of India's 1.2 billion people lack household toilets, yet 63 percent of the population have mobile phones; humans have walked on the moon and put robotic rovers on Mars, yet sanitary napkins remain out of reach for millions of women and girls. These realities are opportunities for solutions.
Today, myriad organizations are working to supply low-cost feminine hygiene products throughout the developing world. Despite this effort, millions of girls miss upwards of one month of school per year because they lack access to affordable sanitary supplies. Many people have dedicated a significant amount of time and resources to address the shortage of low-cost pads in developing countries, and measurable progress has been made. However, given the amount of resources that have been funneled into the WASH sector in recent years, there is great potential to create larger and longer-lasting impact.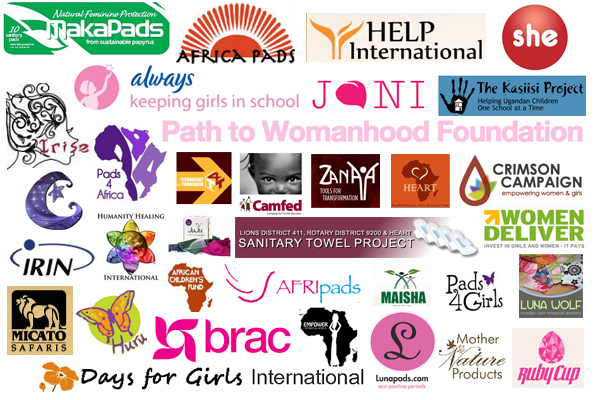 The research phase (deep dive process) took place in Laikipia, Kenya over a two-week period in June 2012. The study's sample included six secondary schools, both boarding and day schools, where I conducted 144 interviews (both group and individual) with female students, parents/guardians of the students, teachers, local government representatives, and water experts.
The initial research phase determined how proximate access to potable water contributes to female enrollment and retention in Kenyan secondary schools. The results of this research showed that the lack of access to a proximate water source negatively affected student enrollment and retention, and that girls were disproportionately impacted by the lack of household water.  
Moreover, this research revealed that water scarcity and inadequate sanitation are inextricably linked to gender disparity in post-primary education. Through discussions with over 100 female secondary students, I discovered that poor menstrual hygiene is a leading cause of absenteeism among female students. Due to the lack of water for sanitary needs, girls regularly miss class in order to avoid being stigmatized as 'dirty'. The majority of student participants felt that the inaccessibility of sanitary supplies coupled with the lack of water for bathing were among the top barriers to realizing gender parity in secondary school.
Research Tools:
- Interviews: group, individual and expert interviews
- Questionnaire
- Community-Driven Discovery
- Self-documentation
Outputs:
- Stories about water and sanitation
- Perspectives on access to education
- Observations of the environment in rural Kenya
- Deeper understanding of the needs, aspirations and constraints of constituents
The goal for this project is to create greater access to affordable sanitary products in underserved communities.
Method:
Empathic Design
- Discussions with organizations to determine what is being done to grow the market for sanitary products in underserved areas 
- Determine potential market size for low-cost sanitary products in targeted communities
- Review successful models, interventions and policies
Action & Deliverables:
- Launched an interactive sanitation and menstrual hygiene workshop at the six schools involved in the study
- Distributed reusable sanitary pad prototypes to several hundred female students
- Follow-up research (interviews, open discussions, surveys, prototype testing) with the female students involved in the hear phase of the study
Knowledge Sharing through Storytelling:
- Brainstormed solutions with the students, teachers and community members
- Shared photos, notes, observations and thoughts on post-its to translate the data (individual behaviors, desires, needs and circumstances) into opportunities 
Cross-pollination of Ideas:
- Built partnership between a nonprofit that provides comprehensive scholarships to female secondary students and a social enterprise that has developed an innovative menstrual hygiene product