This semester I have the priveledge of learning from the lovely Jenni Friedman and Harriet Caldwell. 
For this piece, we first had to draw the negative spaces in a still life of chairs and easels. Then we were told to use these drawings as content for abstractions, and this is what I came up with. They're done in charcoal on white paper. 
These three drawings are a set. The first is a realistic depiction of a still life and the second and third are abstractions of it using conte, charcoal, and pastel.
The next piece is probably my favorite thing I've made. ever. These are some explanations of symbols I used:
Sheet Music and clarinet keys: I incorporated sheet music to represent my time in the marching band playing clarinet. I really didn't enjoy it.
Ram: In Judaism, horned animals are very important. Rams' horns are blown at the start of the year as a sign of remembrance, repentance, and purificaton. It is also said that the horns represent the moon, which constantly changes its position.
Mosaics: The petal shapes I used reference the mosaics in an ancient temple in Israel depicting the zodiac, which is considered 'pagan'. This really confused archaeologists because they didn't seem to belong there.  
I thought it was really wonderful to be able to transform experiences into art. 
The next pieces are self portraits using cool and warm colors for my 2D Color class.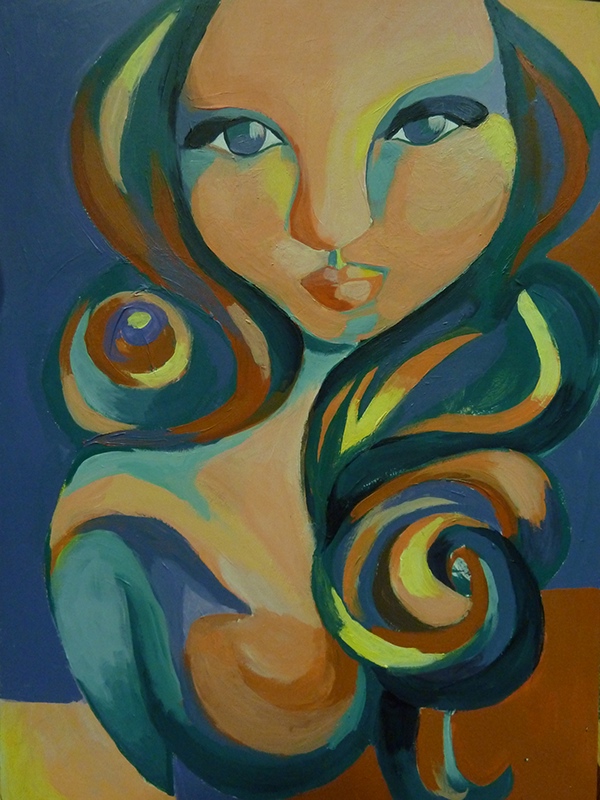 The following project was my final painting assignment. We were told to create three compositions that work alone and together that create space using leaf and flower imagery. One was with cool colors, one with warm, and one with both. 



Thank you so much for looking! Hope you enjoy my work. 
For goodies: www.etsy.com/shop/hippieatart
To contact me: lizsynalovski@gmail.com 
© Lizzy Synalovski 2013