Leeds institution, Oporto, felt its band of loyal merry-makers deserved their own special menu. As everyone loved hotdogs, The Dogging Club was born. We knew the identity would ultimately be used as a neon sign, so we had this in mind when developing the branding.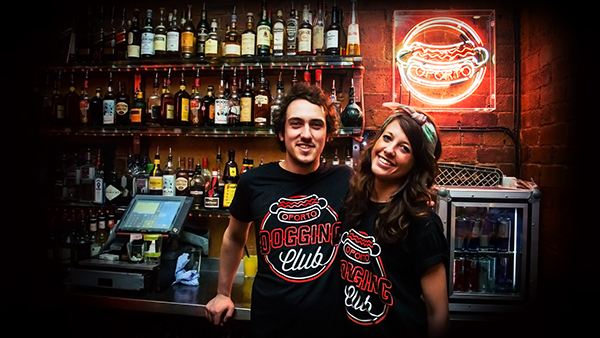 The Dogging Club launched with a hotdog eating contest and Sausagefest, a mock-festival of live music featuring the best sausage-based acts from around the globe. Those privileged enough to become club members were awarded an exclusive keyring, granting the holder unlimited free hotdogs.
After the sign was lovingly crafted by the Neon Workshop, we applied the mark across totes, tees and other collateral. The tongue-in-cheek identity really catches attention from the street, and the initiative has boosted trade, revenue and got tongues wagging on social media channels.