In an industry that is not so worried about being different, my client wanted to stand out from the rest. In our meeting when we first started going over what she wanted to convey in her trade, the ultimate message was that she was

different

.
She has a flare about her that I noticed immediately. She's fun, excited, serious, and professional all in one. So when I was coming up with my initial concepts below, I knew within my gut I wasn't capturing the essence of Cheryl Carnation, the owner and heart of Carnation Construction Co.
The incorporation of saw blades and tacky illustrations of flowers didn't impress her. And now looking back, I can't blame her for thinking they didn't convey seriousness or professionalism. They pandered. And Cheryl isn't the pandering type.
In our second meeting over the phone, we discussed certain inspirations that stood out to her. Most other logos that Cheryl liked had to do with simple squares and a modern touch.
"I just don't want to design you a logo that says your ideas are contained in a box." I told her.
But after much thought, and a lot more research, I opened up to this idea of what a box could actually mean.
In construction, the most important angle to provide structural stability is a 90 degree angle, also referred to as the 'Right' angle. On schematics and drawings, proper identification with a perfect right angle is shown above, by using a square at where the two lines are perpendicular to each other.
Determining right angles could be done in many ways, but the most common is by using a triangle and the
Pythagorean theorem
.
Above I have three frames using the integers of 3, 4, 5 (which carpenters use to quickly confirm they have framed to a perfect 90 degree angle) to show balanced growth and progression.
There was still something that bothered me about the overall composition of the mark. I recalled working with welders on ships, constructing foundations using similar angles. I couldn't help but think of another form of a box with welded bars: a prison.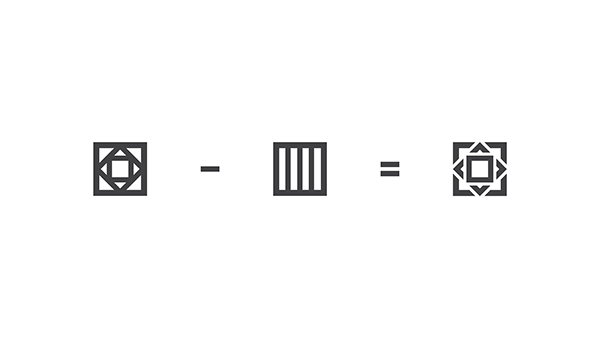 By breaking the welds of each shape, I came up with the final
solution
.