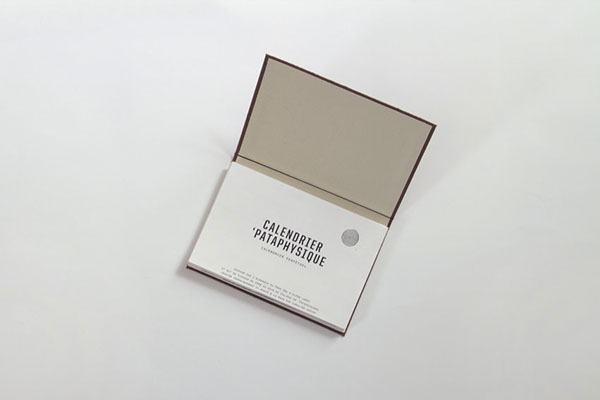 CALENDRIER PATAPHYSIQUE,
Calendrier perpétuel, 2011
Il s'agit d'un calendrier perpétuel qui possède 13 mois réguliers de 28 jours chacun ( avec une exception, pour confirmer la règle ) qui a pour volonté de marquer pataphysiquement chaque jour de l'année. 
La Pataphysique étant la science des solutions imaginaires il fallait réinventé le calendrier pour lui donner une forme nouvelle qui permettrait à chacun de l'utiliser à sa guise. Se faisant il devient un objet interactif et unique. 
Il est présenté dans un simple petit agenda à couverture matiérée où se succèdent dates et collages sans ordre établi. Le tout est relié à la main.
It's a perpetual calendar, containing 13 months of 28 days each (with one exception to confirm the rule). The objective is to pataphysically signify each day of the year. Pataphysics being the science of imaginary solutions, the calendar had to take a new, innovative form, allowing each user to use it as he pleases, thus making the object different & adaptable.
The calendar thus takes the form of a small notebook, with a hard cover in stark contrast with the interior, where dates & collage are intertwined in no particular order.
The object is entirely hand-made.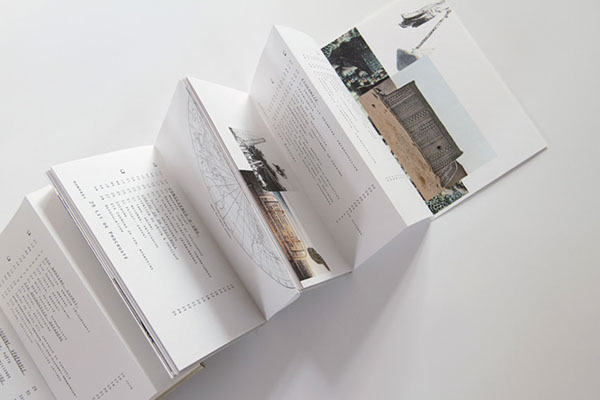 Papier intérieur : Elementa Opaque Classic 60 gr
Sur commande - 100 euros pièce
Year: 2011
Client: Self-edition
Interior paper: Elementa Opaque Classic 60gr
Made on order – 100€