Series of 4 images with hand drawn quotes overlaid, each telling the story of a victim of domestic
        violence.The photoessay was featured in the Fall 2011 issue of the
Bittersweet Zine
. Personal stories
        and 
quotes 
shared by Bethany House of
Northern Virginia. 
         "He pulled the orange extension cord from the power socket and headed toward me. Four strikes with
         the orange extension cord. Those whips hurt more than my bike scrapes."                   
        "When she was 8 mos. pregnant with her son, Troy asked her to help him rake the lawn. When she  
        voiced 
that she didn't feel up to it, he hit her in the face with a rake."                                                                                 
        "I was always worried what might be said, what little thing might be a trigger. She said so much of my  
        energy went into monitoring his moods. It was clear no matter what I did, something I couldn't foresee
        could happen, something I couldn't prevent."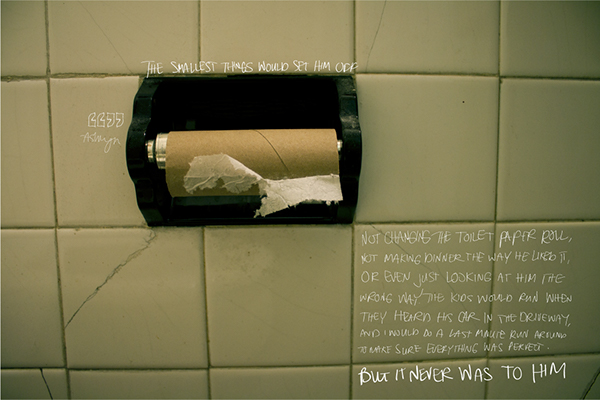 "The smallest things would set him off; not changing the toilet paper roll, not making dinner with way he
        liked it, or even just looking at him the wrong way. The kids would run when they heard his car in the
        driveway. And I would do a last minute run around to make sure everything was perfect. But it never was