Y
ou can call me old fashioned, but I still love to sketch out an idea before I hit the computer. I came up with this vicious looking animal during a two and a half hour train ride across the country. I loved the way this simple design looked on paper. Once I got home I rushed over to my computer to get it all cleaned up.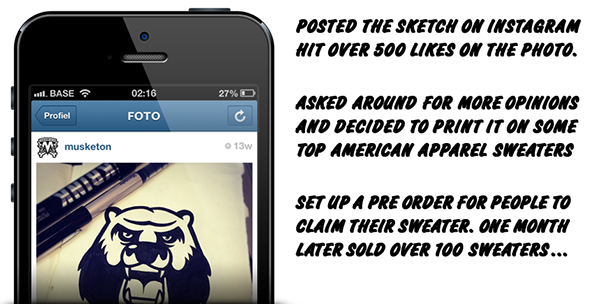 I love Instagram, it's such an awesome way to get some exposure and get honest opinions. I shot a photo, selected my awesome filter, wrote a caption and hit the upload button. My followers really appreciated the sketch, more than I could imagine, and ended up getting over 500 likes. That was that. Obviously I asked for some more honest opinions regarding this sketch. I asked the exact same thing on Twitter and Facebook "should I print this one on sweaters?" Yes.
My buddy Toon and I got things moving and printed the design on 100 sweaters. One week later they arrived at my office, we did a photoshoot with Boy Kortekaas, since I'm not much of a photographer and started promoting the design online.
So I got myself 100 sweaters, time to get them out of my office. One month later I sold out every single Angrybear. Most of them were sold in Belgium, a few bears crossed the Atlantic ending up on the other side of the world. I'll be teaming up with Toon again to get these bears dominating the world. Just stay tuned.
The story got picked up by some major fashion blogs expressing their love for the Angrybear sweater, thanks so much Tiany. I also did a full page interview in De Standaard. I talked about my life as a designer and how I try to spread my word all over the world. My sweater got listed number 1 in Knack's hotlist for 2013.
I'm not a big fan of interviews, especially when it's a television interview and even less when it's a live television interview. I pulled together my act and did the best I could when I was invited to Sam De Bruyn's television show. We talked about my life, how it all started out and ended up doing all these things.
Every package that leaves my office is shipped out with a personal 'thank you' note. I try to provide my customers with the best possible service. I always ask people to put on their sweater, do an amazing pose and upload those pictures to Instagram using the hashtag #musketon. I'm pretty happy with the result, keep on uploading.