Exit Through the Gift Shop
Le film du célèbre graffiteur Banksy réussit à ridiculiser brillamment le monde de l'Art. Le concept de l'affiche est de montrer un homme qui se sert d'une palette de peinture à la manière d'un masque afin de se travestir en « artiste ». De plus, les taches de peintures sur celle-ci substituent l'oeil gauche en plus de créées un nez rouge de clown qui démontre alors le ridicule de ce personnage.  
The movie of the well known graffiti artist Banksy succeeds in ridiculing the Art World. The poster concept is to demonstrate a man who's using a painting palette like a mask in order to disguise himself as an artist. In addition, the paint stains on it replace the right eye and create a clown's red nose, which shows the incredulity of the character.
Université du Québec à Montréal (UQAM)
Professeur: Tomasz Walenta et Alfred Halasa
Photos: Katya Konioukhova
Sérigraphie complétée à l'université avec la seule contrainte d'utiliser le maximum de couleurs avec le moins de passages nécessaires. Avec ce sujet en tête, j'ai décidé d'illustrer l'expression «Broyer du Noir». En tout, seulement huit passages ont été nécessaires grâce à l'utilisation de gris transparent qui modifie les différentes teintes de couleurs.
Screenprint accomplished during university where the only constraint was to have as many colors as possible with the least number of passes. With this in mind, I've decided to use the french expression «Broyer du noir», which in english means moping. This expression comes from the time when artists crushed their color pigments to make the black pigment, which was the hardest to create. In the end, only eight passes were necessary because of the use of two transparent grays which modified the different tints of colors.
Exposition: Impairmeable 2013
Université du Québec à Montréal (UQAM)
Professeur: Gwenaël Ingrid
Photos: Jouhe Forest
Année: 2012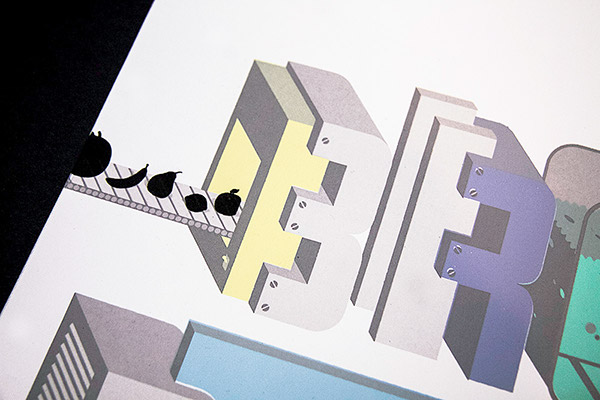 La Ballade de Leila et Lee
L'histoire de cette pièce de théâtre débute alors que deux jeunes adolescents se rencontrent dans un dépanneur avant d'être plongés ensemble dans une histoire de meurtre. La dimension et la substitution des éléments de leurs faces suggère leurs personnalités, lui étant extravertis tandis qu'elle est intravertis. De plus, l'épée de Damoclès est située en haut de leurs mains afin de représenter le danger extérieur qui plane constamment au-dessus du futur couple.
In this play, the story begins as two adolescents get together in a convenience store before getting tangled in a murder case. The size and the missing elements of their faces suggest their personality, him being extroverted while she is introverted. Furthermore, Damocles' sword placed over their hands is used in order to represent the danger that constantly hovers over the future couple.
Université du Québec à Montréal (UQAM)
Professeur: Christopher Scully
Photos: Katya Konioukhova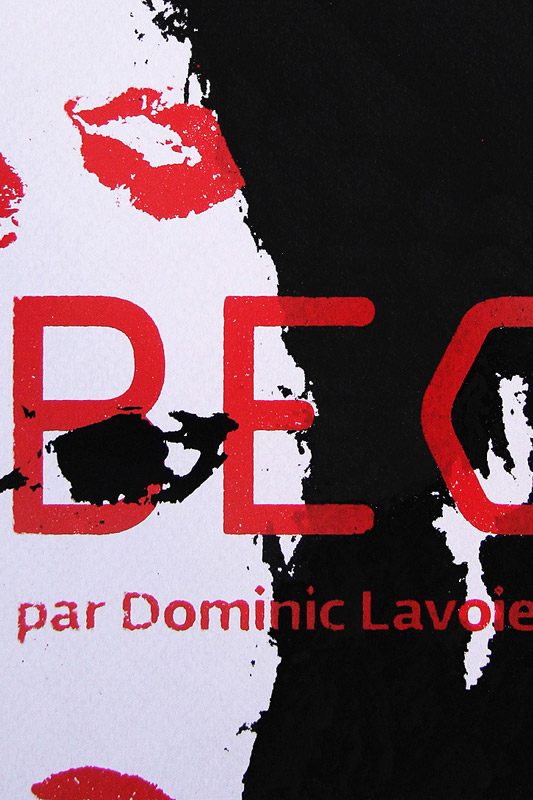 Court métrage sur un couple qui s'aime mais que les circonstances font en sorte d'indiquer tout le contraire. Les becs sont un leitmotiv significatif tout au long de l'oeuvre; étant incapable de s'embrasser sur la bouche chacun à leur tour doute de l'amour de l'autre. Les becs de couleur rose sur l'affiche supporte la métaphore utilisée par le réalisateur.
Short film about a couple in love, with circumstances making them believe the opposite. The kisses are a significant leitmotiv throughout the movie; because they are incapable of kissing each other, they doubt each other's love. Therefore, the pink kisses on the poster support the metaphor used by the director.

Client: Les Films du 2228
Année: 2010
 
Le Diable en Personne - La Grande Visite S'en Vient!
À la veille du jour de sa mort, un homme n'ayant jamais rien fait de bien ni de mal reçoit la visite du Diable. Ce-dernier vient le tenter de commetre quelque chose de mal pour l'attirer vers l'Enfer au lieu du Paradis! Le visuel oppose le diable à l'ange, le rouge au bleu et l'Enfer au Paradis.
The day before his death, a man who never did anything good or bad receives the visit of the Devil. The latter tries to convince him to commit something wrong in order to change his fate, sending him to hell. The visual opposes the devil to the angel, the red to the blue and hell to paradise.  
Film mystérieux à propos de deux personnages qui doivent se rendre au 1639 Létourneux afin d'accomplir une transaction. Le visuel est formé de l'élément clé du scénario, un talon haut, tandis que la typographie rappelle les chiffres d'une adresse. Ces deux éléments de la composition forment ensemble un X afin de suggérer une impasse à l'histoire.
A mysterious movie about two characters who need to go at 1639 Létourneux street in order to make an unknown deal. The poster shows the key element of the scenario, a high heel, while the typography reminds the numbers of a street address. These two elements create an X shape so that it suggests a deadlock in the story.
Client: Les Films du 2228