Degree project / BFA in Visual communication design 
june 2013, at Academy of Fine Arts and Design, University of Ljubljana
Thesis title: 
Visual communication outcomes for public space and their influence on the quality of life 
Project tittle:
A day without an ad 
It is a fact that development of our social culture has reached a level where presence of advertising isn't just essential but also taken for granted. Thesis part of this project describes problematics of outdoor advertising in the public space. The latter is, because of diverse interests, hardly to be moved closer to all of the people who use public space. As well it wouldn't be expedient to impose visual communication design' opinion on those whose life purposes are different from this field's principles. To argue the point of my thesis I have developed a concept, how to communicate problematics of visual pollution (of conventionally empty information) that has been done by outdoor advertising in the public space on a daily basis, and rise a broader awareness of that. 
It is about visualization of an idea of 'a day without an ad', which is taking an initiative to set up a holiday alike occasion, where all the outdoor advertisement from the city of Ljubljana 
would be completely removed (concretely all of the advertisements would be replaced with a photograph that shows a real background, in reality hidden behind the advertisement itself) . In a real-life execution this action would last just for a day. Its purpose and objective is to trigger critical thinking of every individual on multifaceted problematics that have been done by advertising pollution in the public space.
(idea, concept, information graphics, motion graphics, photography, editorial design, package design, writing)
Through motion graphics all of the project outcomes has been summarized in a short message. (The motion is intentionally adjusted that some information can be read just while the video is manually paused). Animation itself is just an additon to the project and not its major part.
Public space 
Visualized data showcases public space in the city of Ljubljana (zones inside of the ringroad). As public space are meant 'areas that can be used under same conditions by everyone'. Among marked on the map are public roads, public paths, green zones and water areas. 
Visualized data showcases visual pollution made by advertising* in the city of Ljubljana (area inside of the ringroad). Information graphic presents advertising zones, adverts placed in a longer line and ad spots, all of them located in the public space. Plain information were gathered from Public information system database, issued by the Municipality of Ljubljana.
Additional diagram visualize how big the area of horizontally placed advertisement would be (in a real-life all of the advertisements are placed vertically on the surface). Concretely all advertisements from the city of Ljubljana in horizontal position would cover almost 2/3 of the whole country of Slovenia. All advertisements from Slovenia in their horizontal position would cover an approximate area of the whole territory of Slovenia, Croatia and Bosnia&Hercegovina.
represents 2 different information graphics in a form of navigation map (dimensions 600x891mm, and pocket size A3 format)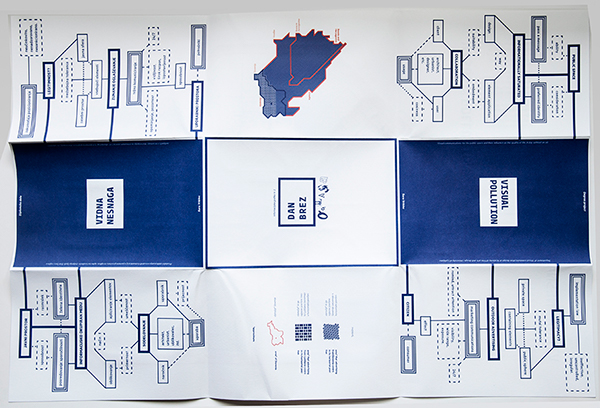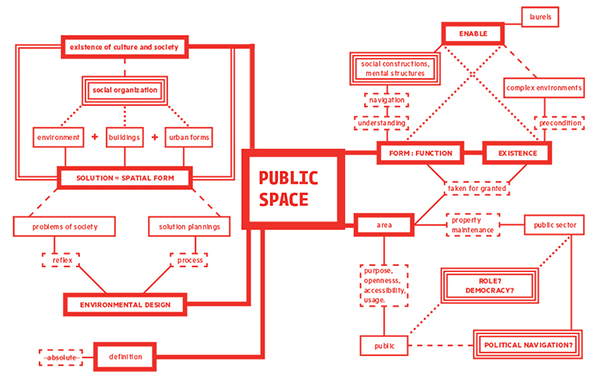 Visualization through photography
Photos are taken in Ljubljana on some typical places over-polluted with outdoor advertising. Materials are photoshopped with intention to present a real background that is in a reality hidden behind the billboard. 
In analog version this content is presented through editorial, where cleaned/edited photo is covered by transparent paper with the ad on it; therefore a viewer has that ability to see a real-life pollution that has been done by outdoor advertising and also to see the same environment, with removed advertising. 










As design project with complete copyright, the whole degree outcome is allowed to differ from the standard design rules. All parts of the project are stored in a transparent package; each part has its own editorial with separate cover.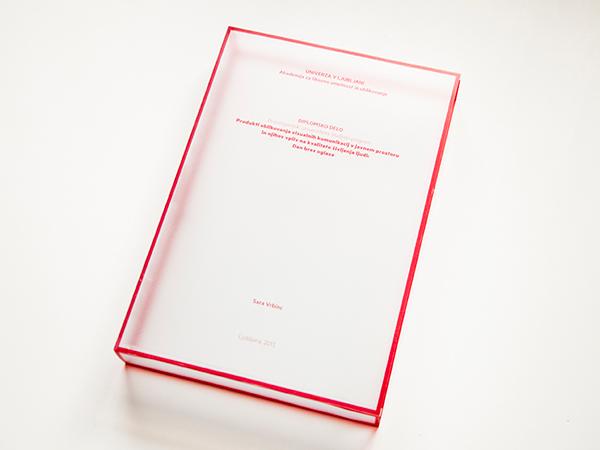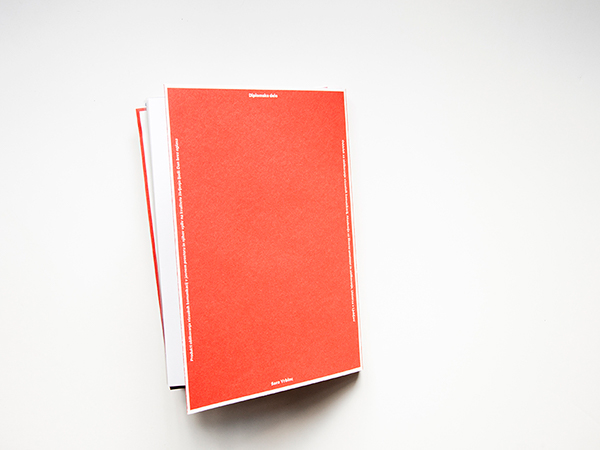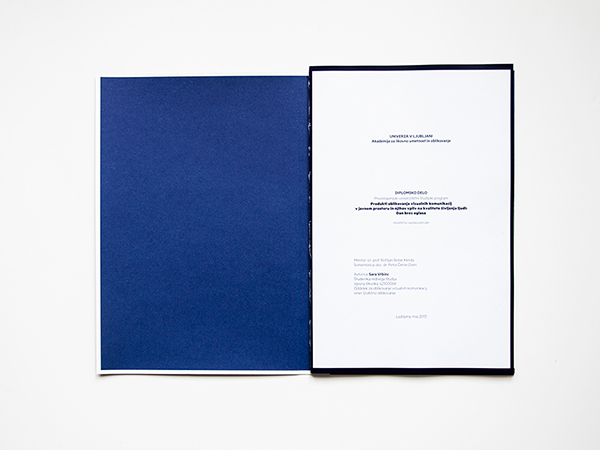 The project itself is not a kind of negation of advertising, merely it is a critique on visual pollution of conventionally empty information that has been done by outdoor advertising in the public space; where such implementation defines visual identity of the city, visual culture of the citizens, and therefore automatically transforms citizens into customers. 
So, a banal suggestion would be, that ethics can be stabilized after a total move of advertising from an actual public space to virtual form of it, where a person is allowed to make her/his own decision to become a customer or not. 
Living in contemporary society means being involved into information era, as a consequence of capitalism. Later exists because of consumerism, which is enabled by advertising as globalizations' leading industry. Hereby advertising profession has a power of culture determination and its construction. Implementation of outdoor advertising is a matter of rigging public space, therefore it inevitably does transform citizens into customers. Divisive ethical issue lies in visual pollution of conventionally empty advertising messages
in public space, where law lacks on regulation of outdoor advertising. For the final outcome of advertising, collaboration with graphic design is needed. This is a basic reason for emerging debates how abilities of
designers are wasted on trivial purposes of advertising. Design profession can fully actualize its mission of growth and prosperity of people's life just by multidisciplinary collaboration. This is most evident while dealing with public space. Planning functional and user-friendly public space demands collaboration of architecture, urbanism, other branches of design, and not as practice showed - whims of those on financial leadership. Probability of such is shown by the practical project of this thesis. 
All of the work has been done by Sara Vrbinc
Mentor: izr. prof. Boštjan Botas Kenda
Co-mentor: doc. dr. Petra Černe Oven
http://saravrbinc.com/A-day-without-an-ad
Font used in a 'logotype' (characters that write ''an ad'' or ''oglasa''), originally titled 'Yo, Freckles!', has been made by
Kokoro & Moi Collaborators
. Audio from animation, originally titled 'Chango Island' has been made by
Kupa
, and afterwards partly remixed for the purposes of my project.