La Maña is a Slab Serif or Mecana inspired by Mudejar architecture in Aragon (Spain) that was developed between the twelfth and seventeenth century. The characteristic details of this architecture and its distinctive Mudejar Star have been incorporated in a way meditated and subtle anatomy of this font. La Maña is characterized by a large height of X and a fitting width font that adding to their generous finials and their unique gussets make it perfect for large headlines and advertising.
The two weights (regular and relief) that owns, the 175 Open Type ligatures and more than a thousand pairs of tight kerning manually make La Maña unique and singular a font designed with special care.
La Maña es una Slab Serif o Mecana inspirada en la arquitectura Mudéjar de Aragón (España) que se desarrollo entre los siglo XII y XVII. Los detalles característicos de esta arquitectura y de su distinguida Estrella Mudejar han sido incorporados de una forma meditada y sutil a la anatomía de esta tipografía.
La Maña se caracteriza por una gran altura de X y por un ancho de letra ceñido que sumando a sus generosos remates y sus singulares cartelas la hacen perfecta para grandes titulares y aplicaciones publicitarias.
Los dos pesos (regular y relief) que contiene, las 175 ligaduras Open Type y los mas de mil pares de kerning ajustados manualmente hacen de La Maña una tipografía única y singular diseñada con un cuidado especial. 
La Maña has two 2 distinct weights, "Regular" and "Relief".
La Maña cuenta con dos 2 pesos distintos, "Regular"  y "Relief".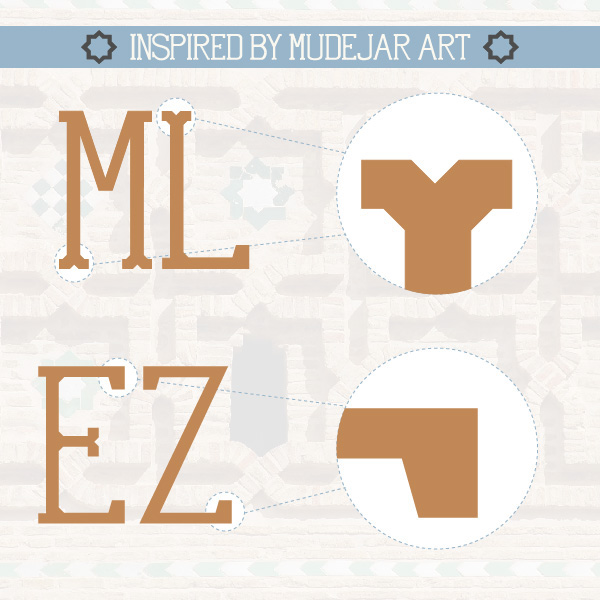 Espero que os guste.
Agradezco vuestros comentarios y "APPRECIATE THIS".
 
I hope you like.
Thank for your comments and "APPRECIATE THIS".