In May 2010 the State Theatre asked usto develop backdrop projections for "Snow Queen". This stage play isthe flagship of the big house. 55 000 visitors yearly see thatChristmas staging.

12 projections in size of a cinema screen arose over 9 months. Thebackdrops on stage have been picked up and spatially widened by digitalpaintings.

On this screen we break the limited room of the stage… and open the view to wide landscapes…
One of the main dangers is when thepainting doesn't get integrated into the scenery and the spectator thensenses it solely as wallpaper at the end of the stage…

We bypassed this problem with a visual trick: The foreground of thepaintings mostly remained in the shadow. Only in the background a lightappears to lighten the scenery.
Thereby the visual access to the picture is easier for the spectator.He gets deeply involved into the painting, to the brightest light. Thespectator looks to a far-off point which seems to be far behind thecanvas screen…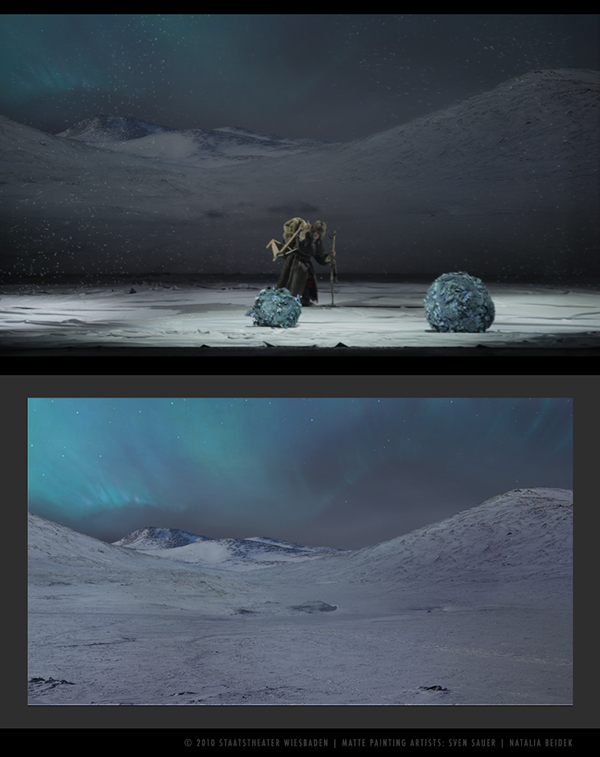 The theatre has got a surprise for us,which we don't expect. At the cinema, all the spectators sit in frontof a big screen. Every single one has the whole size of the screen infront of him. At the theatre, it's not like that.

The stage is three-dimensional. Some stage designs partially obstructyour view. Depending on the seat place, the perceived field of view ofthe spectator changes dramatically. For example, the spectators in theupper lodge places have a very strong top-view over the stage – but forthem, the screen quickly disappears behind the curtains...

Although we have to fill a huge projection screen with a giganticlandscape, the area which all the spectators perceive at the same time,is vanishingly small…  
The designing of the paintings at the theatre proceeds according tocompletely different rules… The motifs are constructed very centrally.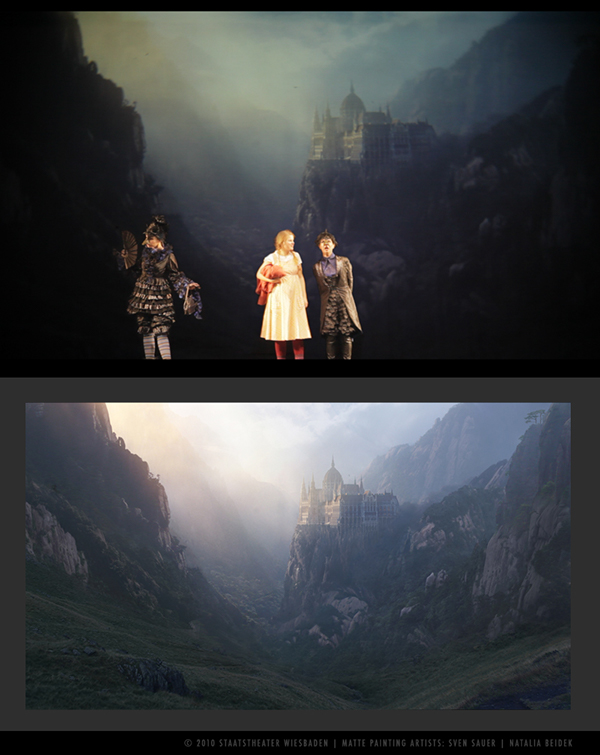 During our daily job we have to makesure meticulously that the pictures look real – at the theatre we areconfronted with the opposite of that: too strong realism would cause aseparation between the stage backdrop and the projection.

Therefore we constructed the motifs as an extension of the stagedesign…From plain to plain. As a carton-theatre of our own childhood…We reinforced the silhouette-character in order to strongly express theimpression of a proper theatre-backdrop.

The basic picture material consisted of over 3000 photos taken of theYellow Mountains in China during a 2-weeks-shooting at the end of 2007…The mountains had something fabulous.
The chessboard-grid gives us an idea of which parts of the painting will later be visible for the spectators…
 
The projectors have a power of 4000watts each. This strong light performance makes it possible tofloodlight the stage with the painting - even though the actors are infull illumination. The testing foils may be laid only a few minutes inthe projector frame before they start to burn… The final pictures wereproduced on special heat-resistant foils. Nevertheless, also thesemotifs will have to be changed ten times in fifty shows…
The paintingsare constructed modularly. We don't replace the whole picture but onlysmall parts of it. Thereby the spectator doesn't experience any hardbreak but he gets sucked into the landscape. It is, as if the standingprojection gave us the possibility to show a movement, a journey…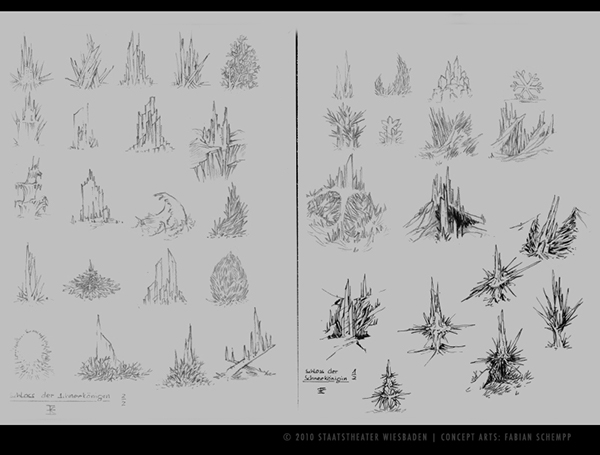 During the production, the pictures of"Snow Queen" required in average 8 to10 days per motif to completion...When we are asked whether all these small details will be noticed bythe spectators at all, we always say: "No - of course not, but theywould notice if they were not there ..."