"WIRED - Italia" called me in to develop a simulation of the "Oracle racing team crash" ,a disater happened not far from the "America's cup" competition.The AC72 trimaran capsized in the bay while training & eventually broke it's main wing,ending upside down.The crew evacuated the raft prior to the main wing rupture,surviving an evolving disater that could have easily been deadly.The AC72 wreck was eventually dragged back to the bay,as soon as the strong currents ceased.
The video animation is a accurate 3d simulation,and would have been implemented in the i-pad wired magazine,that contains many animated features,in this case "interactive" and controllable through finger gesture as demonstrated in the top image.
Interesting to work on the future of editorialism,so much more information and understanding for the digital reader.
A special Thanks must be given to the creative director David Moretti,and Massimiliano Mauro that helped me throughout the process and the implementation of the app on the i-pad.
Raft,water trails and compositing by Mark S. Beccaloni (excluding the original template image and textboxes ,designed & property of Wired)
Above: the reverse engineering process of the AC72,complicated due to the absence of blueprints being a 2013 top secret design.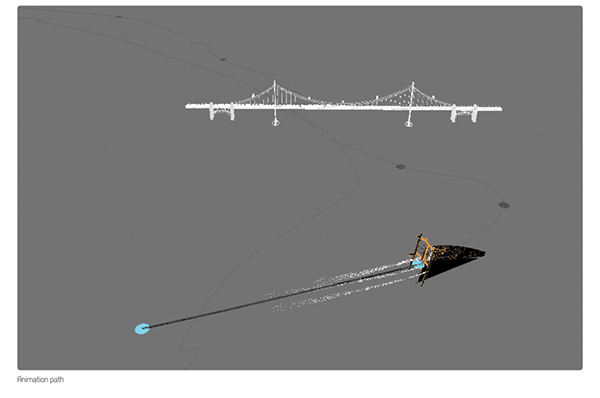 Above: simulation screenshot showing the water trail generation and the paths leading under the golden gate
Below: a brief movie to give an idea of the full path and various manouvers of the oracle AC72 during the accident.