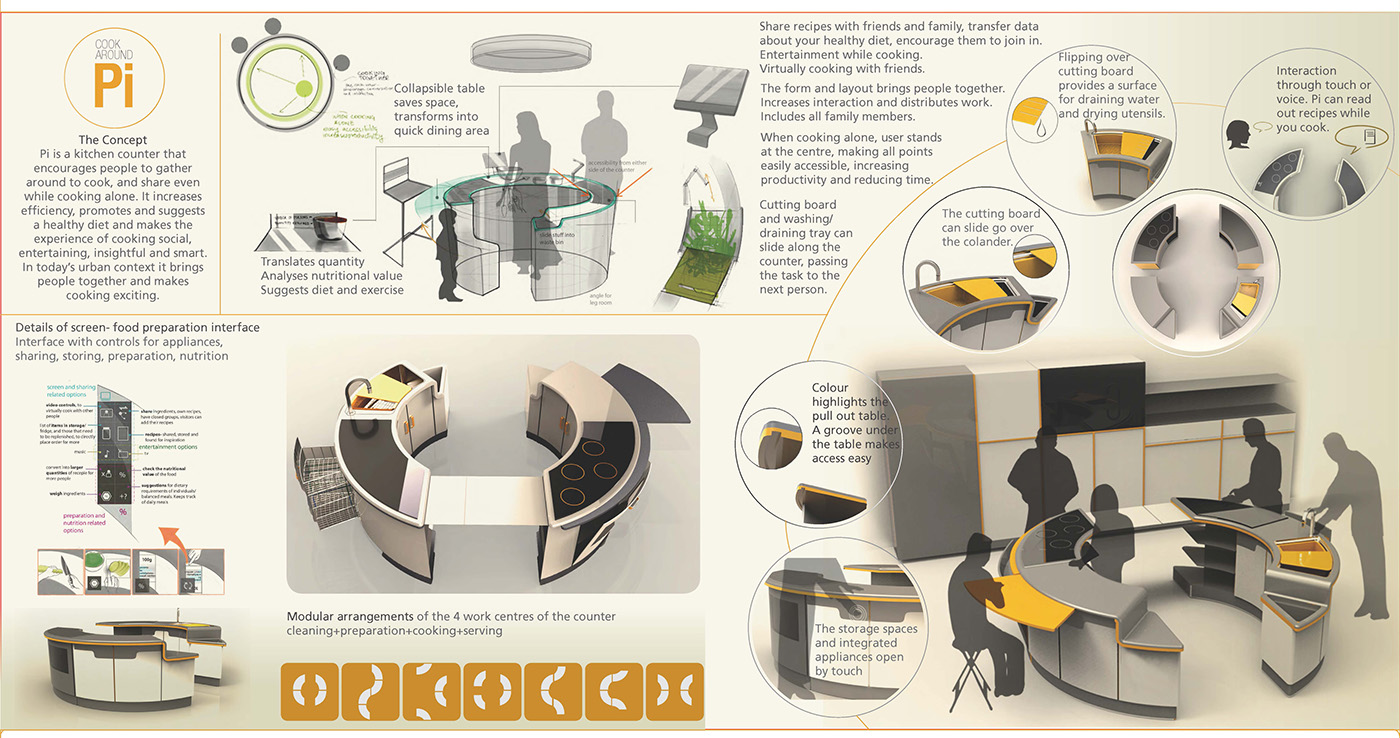 Pi considers the scenarios where one would be cooking alone, with family or on occasions when friends and family visit. Understanding how people want to cook when together and by themselves, Pi serves not only the basic needs of the kitchen, but also acts as a platform to entertain and multi-task.
Development has been done based on the aspects of user needs, usability and ergonomics, on the three core elements of the design: the Furniture (and shape), the Technology (wanting to know what foods are suitable and wanting to know what you eat) and the Psychology (influencing the lifestyle, catering to peoples aspirations).
The main utilities are grouped in the centre. Proximity is based on the process of cooking. The counter is divided into four major work centres: cleaning and washing, preparation, cooking, serving and appliance space. Additional storage is provided separately on the sides. These parts can be re-arranged based on the constraints of the kitchen space. It allows the user the freedom of modular units, to set up the kitchen in different ways.
The preparation area has a provision to calculate the nutritional value of the food, multiply the ingredients of a chosen recipe to suit the number of people, guide you through the cooking process and keep time. This process informs you when you have cut enough ingredients, cooked the food to the necessary level, when to mix the ingredients, and thus encourages even those who are unfamiliar, to cook. It keeps track of your families' daily diet, and provides suggestions for balanced meals. It is controlled using the touch interface on the countertop, which also controls the display screen, and all other appliances. This screen acts as an interface to the stored recipes, inventory of stored foods, entertainment system and the medium to project holographic videos of your friends virtually in the room when cooking simultaneously. It also provides a platform for your visitors to add their recipes, watch a favourite cooking show and place orders for groceries. A similar touch based control is also used for the cook-top and oven.
Pi appeals to the psychology of users, understanding the needs of a busy life and the crisis people face with respect to their food habits due to lack of time. Everyone wants to eat healthy, but they either lack time, patience or motivation. This kitchen counter makes cooking faster, more efficient, guides you easily, encourages you to cook with others, thus welcoming you to spend a little more time on cooking healthy meals, rather than quick easy snacks. It promotes healthier food habits by sharing the experience of cooking. This smart kitchen provides the incentive and experience so that you enjoy the time spent.