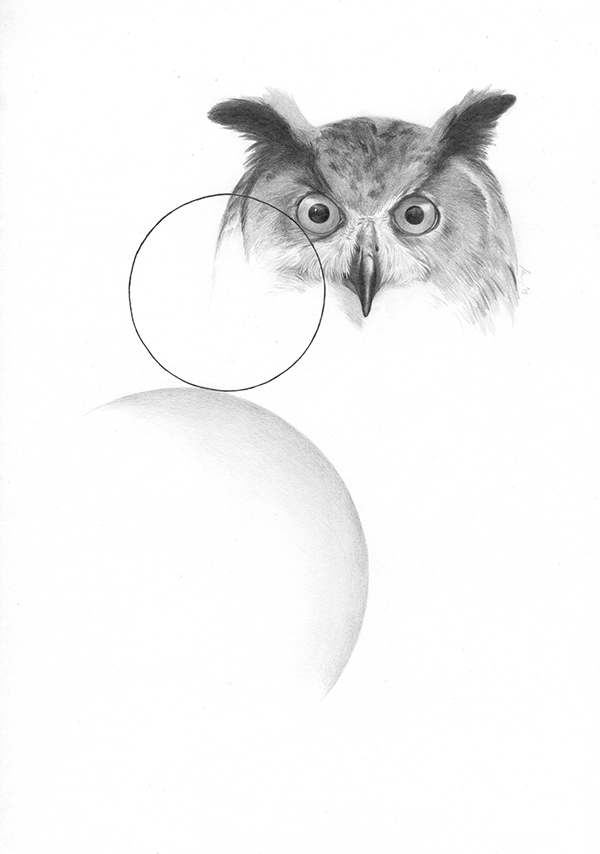 Tři zvířecí portréty, tři základní obrazce, trojí hledání souvislostí. Pomyslné spojnice vedoucí od čenichu vlka přes jeho oči k uším tvoří ramena trojúhelníku - po zmenšení a obrácení shodného s tím, který jej doplňuje. Slova srnec a čtverec zní podobně, proto jsem v portrétu srnce hledal čtverce. U sovy vidím souvislost s kruhem, neboť nejvýraznějším znakem je upřený pohled kulatých očí, navíc sova dokáže otočit hlavu téměř kolem dokola a obsáhnout tak svým zrakem 360 stupňů, tedy celý kruh.
Three animal portraits, three basic geometrical shapes, three searches for relationship. A wolf's head is triangle-shaped, if we imagine lines from its nose through eyes to ears. The small triangle in the first drawing is similar with this imaginary triangle of the wolf's head. I don't know exactly why, but I can see squares in the portrait of roebuck. The connection with an owl and circles is more visible - owl's eyes are very noticeable circles and it can turn its head almost all the way round, so it is able to watch whole circle.
Kresba s názvem Geometrizace ilustruje postup, jakým je možné dojít ke geometrickému zvířeti: realistická kresba ptáka, jehož silueta je geometrizována, až je pták úplně zjednodušen a poskládán z trojúhelníků. Kresby se srnami si pohrávají s geometrickým názvoslovím - vepsaná/opsaná. Tělesný rámec srny je obdélník, je ji tedy možné do obdélníku vepsat. U druhé kresby jsem se pokusil o opak - srna je zachycena v přirozené pozici a její tělo obklopuje, tedy přeneseně opisuje, obdélníky.
The drawind called "Geometrisation" is illustrating the process of creating geometrical animal: a realistic bird, which silhoutte is redrawn more geometrically and finaly the last part - minimalstic bird built from traingles. I apply this also on a fox (below). Drawings with does and deer are playing with words and geometrical symbols.