Series of

"Dancer In The Air"
Medium and Measure: Paint, milk, water / Photoshop
Chinese traditional water color painting uses water's permeability and activeness to present beauty. However, I discover another outstanding characteristic – tension. At the moment the water splashes, beautiful and natural forms are created. I treat them as a water dance in the sky. The series of works records the momentary beauty of painting materials when they are suspended briefly in mid air. After post-effect handling, I incorporate people's dance into it. While man's limbs are incomplete, I hope to use this effect to present the explosiveness of the dance.
The destination may be the hope or the nightmare. However, you can only expect that miracles could alter the fate before the result is disclosed. What I manifest here is a maiden bound by destiny waiting for relief.
Freedom is the most original desire for a life. It never stops flying freely even though it breaks its arms. Why I want to express this theme is that I believe the broken life contains the strongest explosive force and aesthetic feeling.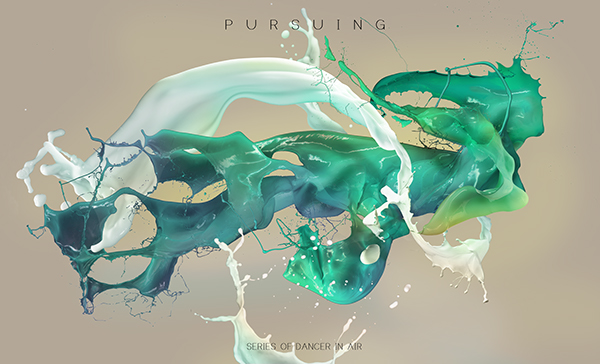 people who is teeming with hopes and goals will run faster and faster. A maiden heading for the bright future is featured in the work.