When thinking of health care, the first brand that comes to Brazilians minds is Unimed. It's no fluke the cooperative has a captive memory in the minds of consumers: not only is it the largest health insurance co-op in the world, but also the largest health care network in Brazil. It covers 83% of the Brazilian national territory and holds 38% of the country's health insurance market.
In order to get even closer to its consumers, Unimed created a new BrandCenter and looked forward to a new typeface aligned with its communication objectives. Thus, in late 2012, dooType was requested to develop an entirely new typographic system, made up of three font families:

UnimedSlab

,

UnimedSans

e

UnimedSerif

.
After five months of work, dooType is proud to introduce its first bespoke typography project. With typographies specially designed for headings and body copies, the new system comes to compose Unimed's visual identity and to keep its top-of-mind awareness of health insurance. Get to know each typeface.
UNIMED SLAB
Designed to be used for display typography, the UnimedSlab font family features an outstanding personality. It has robust serifs and carefully optimized letter-spacing for blank space saving. With seven weights, from Light to Black and their italic types, it provides enormous versatility, for it allows the choice of the appropriate weight for each content hierarchy.
UNIMED SANS
The UnimedSans font family has a dual function: to be employed along with the Slab version when used in headings, as well as to be employed in short texts so that the Serif version is not overloaded. For best results when used in short body copies, four weights, ranging from Book to Bold, are recommended. The other weights have better use in large body copies.
UNIMED SERIF
With three weights incorporated, the UnimedSerif font family has the essentials for creating materials with a large amount of text. The Book and Regular weights hold a slight difference between each other. The desired effect, as well as the type of paper and print, will have an influence when choosing one or another. The Bold version completes the font family and works as a support for items that need to be highlighted, in conjunction with their italics.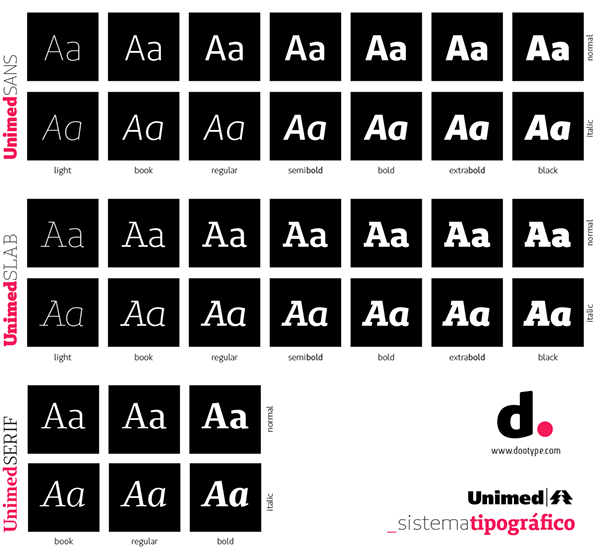 Project created by Eduilson Coan, between February and June 2013.