"Bee and PuppyCat"
Bee, a reluctant hero, becomes entangled in the adventures of a puppy (...or is he a cat?) as they travel between reality and the void of Fishbowl Space. Created by
Natasha Allegri
, character designer and storyboard artist for
Adventure Time
. We can neither confirm nor deny the autobiographical nature of Bee & Puppycat.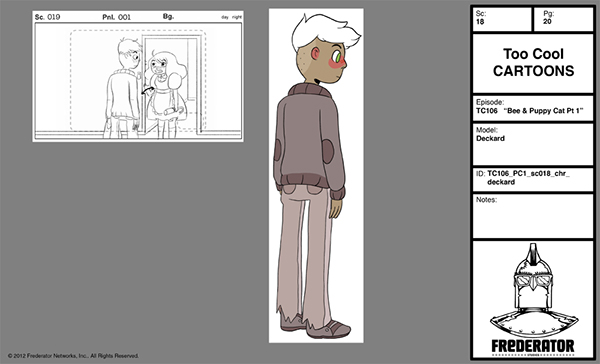 Cartoon Hangover is the home for cartoons that are too weird, wild, and crazy for television. Cartoon Hangover is able to bring great characters, hilarious cartoons, and some of the highest quality animation to the Internet.

Created by: Natasha Allegri
Written by: Natasha Allegri
Directed by: Larry Leichliter
Storyboard by: Natasha Allegri
Sheet Timing: Larry Leichliter
Character Designer: Natasha Allegri
Prop/EFX Designers: Zachary Sterling
Char/prop/EFX Clean Up: Jojo Baptista
Background Design: Alex Dilts
Background Painter: Amanda Thomas, Emily Partridge
Color Stylist: Efrain Farias

Executive Producer: Fred Seibert
Producer: Kevin Kolde, Eric Homan
Co Producer: Natasha Allegri
Production Manager: Sylvia Edwards
Production Coordinators: Stephen Worth, Dana Jo Granger
Production Assistant: Ross Kolde, Diane Kolde
Casting Director: Meredith Layne, CSA
Editor: Andy Tauke, Dave Woody

Cast 
Bee: Allyn Rachel
Deckard, Police Officer: Kent Osborne
Temp. Agent, Ladybug: Tom Kenny
Wallace: Frank Gibson
Assign Bot, Double Mouth: Marina Sirtis

Voice Director: Kent Osborne
Dialogue Recording: Salami Studios Post Production
Dialogue Mixer: Mark Mercado
Assistant Dialogue Mixer: Jonathan Abelardo
Post Production: Salami Studios Post Production
Sound Design and Editorial: Robert McIntyre
Sound Effects Editor: Jessey Drake
Foley Mixer: Roberto Dominguez Alegria
Foley Artist: Cynthia Merrill
Dialogue Conform: Mark Mercado
Re-recording Mixer: Thomas J. Maydeck C.A.S.

Score By: Will Wiesenfeld
Animation Checking: Wendy Jacobsmeyer
Track Reading: Slightly-off Track Inc.
Animation Services: Dongwoo A&E Co., Ltd
Animation Director: Ki-ho Hwang
Layout Artists: Jae-ryong Shim
Model Checker: Hee-jin Choi
Assistant Animation Supervisors: Jung-sil Kang
Key Animation: Jung-seok Seo, Jong-min Kim, Jae-won Baec, In-seol Hwang, Hyun-seok Seo, Hak-soo Bok, Young-rim Lee
Final Checker: Eun-hee Jung
Background Director: Yoon-ho Lee 
Color Stylist: Mi-ok Jeon
Composition: Kang-ok Kim, Joo-hee Yang, Soo-jung Yang, Eun-joo Choi, Mi-kyung Lee
Production Staff: Young-wun Park, Sua Park, Shinwan Kim

Bee and PuppyCat
It's a puppy and a cat. Could it get any better? Yes. Fishbowl Space. Created by Natasha Allegri, character designer and storyboard artist for Adventure Time.