Fido is a service that assists families with finding the perfect dog to adopt! We take the exhausting task of multiple applications and finding the right dog, and simplify it! Forget looks, and let's focus on compatibility. After filling out our thorough application, we spend 24 hours finding your new canine companion. 

After both a statistical and a personality evaluation by our trained staff, you'll be matched with 10 dogs in your region looking for homes. After you make your choice, we send you home with all the treats and tips you need on starting out your new life with your new best friend. In the end, our promise always rings true: happy dogs, happy homes.
Everyone has heard the phrase "dog is man's best friend." At Fido, we aim to reverse this. We want to find Fido's best friend. Fido is a classic dog name, and it immediately brings a nostalgic feeling to dog lovers such as ourselves. When we approached our branding, we knew we wanted it to be bright and clean. This would emphasize our upbeat and exciting attitude about finding your new dog. The main identity features a motif of a woman and dog silhouette overlapping like a venn diagram. This shows that they have similarities, and these similarities make them into a whole form. We believe that if we are doing our job correctly, we're finding your better half. This overlapping section is emphasized by overlaying the colors. After we developed our identity, we wanted to make sure the bright, clean aesthetic was carried throughout the stationary suite, promotional pieces, web, packaging, etc. We brought in beautiful photos of dogs that have successfully found homes using Fido and paired them with clean contemporary illustration. Our branding creates an emotional connection between ourselves and our clientele.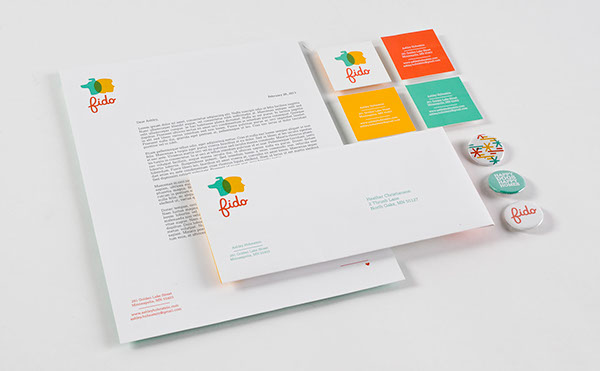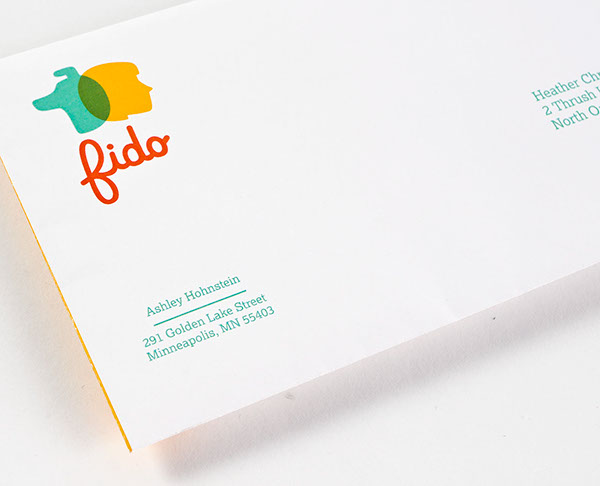 This project was created for the UW-Stout Graphic Design Senior Show in Spring 2013. After creating this project, we showcased them at a gallery opening, kind of set up like a trade show with booths that fully intergrate our product. All of the images below are images from that evening!