CREATURES /

 
Unknown Creatures of the World by Haru Kaneko
Hardcover, 85 Pages, 12.75" wide x 10.75" tall
I made these creatures using fruits, vegetables, plants, meat and fish.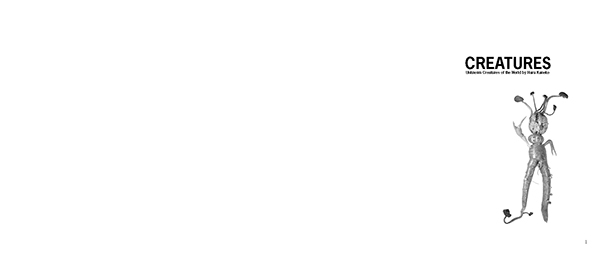 Scientific classification
Class:           Drakonfructusmorpha
Order:          Squabiformes
Family:        Cyclopidae
The Blue Cyclops' body can measure up to 50 cm (20 in) long; the male weighs on average 1400g (48 oz) and the female 1000g (36 oz). Thought to have originated in northern China, they have now spread to all continents except the Antarctic due to extremely frigid temperatures. Born with only one small eye and poor eyesight, the Blue Cyclops relies primarily on its sense of touch. It crawls with powerful paws. Its behavior is primarily nocturnal. The body of  Blue Cyclops is pink and yellowish green and The Blue Cyclops is known for its ice blue colored eye.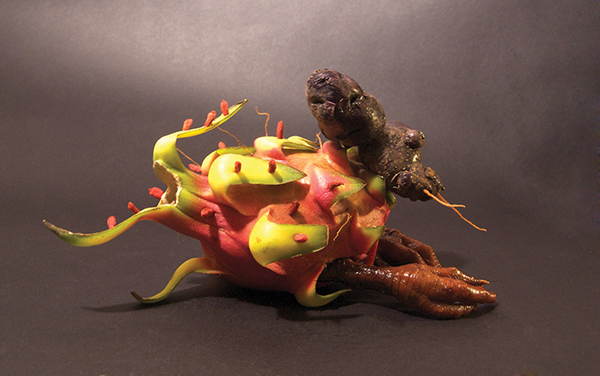 Scientific classification
Class:           Femininamorpha
Order:          Liccianales
The Maple grows to a maximum length of 3 m (9.8 ft) and weight up to around 70 kg (150 lb). 
It is native to much of eastern and southern Asia. Maple hunts and ambushs prey including invertebrates, birds, and mammals. The diet of big speciems mainly consists of deer, though they also eat considerable amounts of carrion. Young Maple are vulnerable and therefore dwell in trees, safe from predators and cannibalistic adults. They take about eight to nine years to mature, and are estimated to live for up to 30 years. Maple is capable of achieving speeds between 56 and 60 km/h (35 and 38 mph) in short bursts covering distances up to 100 m (320 ft) and has the ability to accelerate from 0 to over 50km/h (31 mph) in three seconds. It is one of the Parthenogenesis which is a form of asexual reproduction found in females, where growth and development of embryos occurs without fertilization by a male.
Scientific classification
Class:           Gastroaves
Order:          Bottomfeederida
Family:        Salivoridae
The Salivoria grows in environments that provide high humidity and precipitation and moderate to high temperature levels. It also likes the dense and shaded forests. Its body length averages 50 to 100 cm (20 to 40 in) long and 80 centimeters tall with a wingspan of 150 cm (60 in). The Salivoria's primary food sources are plant and meat. It is opportunistic, general feeders not specifically adapted to eat and digest either meat or plant material primarily. Prey usually consists of rats and lizards but the larger Salivoria may occasionally catch larger mammals, such as monkeys. Salivoria's oral cavity is secreted a venom containing several different toxic proteins. The known functions of these proteins include inhibition of blood clotting, lowering of blood pressure, muscle paralysis, and the induction of hypothermia, leading to shock and loss of consciousness in envenomated prey. 
Its lifespan is typically 10 to 15 years.
Scientific classification
Class:          Fiscamorpha
Order:         Vomitusales
Family:       Troubadouraceae
The Troubadour usually lives in meadows, woods, forests, wetlands and lives in groups. 
Their size can range anywhere from 20 to 50 cm (8 to 20 in) in length and 0.4 kg to more than 2 kg in weight. Troubadour is able to jump up to a meter in distance. It uses the digestive apparatus from its mouth to directly ingest its food.
Scientific classification 
Phylum:     Bipedaliphyta
Class:          Pierrotopsida
Order:         Karotoniformes
Family:       Voodoolaceae
The Voodoo's average height of an adult is about 0.9
 to 1.5 m (3 to 5 ft) tall, although this varies significantly from place to place . The average mass of an adult is 32 to 54 kg (70 to 120 lbs) . The genitalia located in much the same location as in human anatomy also resembles the male reproductive parts. It is capable of fully bipedal locomotion, thus leaving its arms available for manipulating objects using their hands, aided especially by claws. It developed a much larger brain than that of other creatures– typically 2,800 cm³, over twice the size of that of a human. 
Scientific classification
Phylum:      Finnarchaeota
Class:          Marmaymorpha
Order:         Aktoposida
Eloise lives in almost all coastal and offshore waters which have water temperature between 12 and 24 °C (54 and 75 °F). 
An adult Eloise's length rarely exceeds 3 m (9.8 ft), and females tend to be larger than males. An individual this long is expected to weigh around 420 kg (926 lbs). Fish and shellfish are its main food, but it also feeds on marine mammals. They communicate with whistles and burst–pulsed sounds. Its arms have been modified into fins. Its long lifespan is 70 years or more.
Scientific classification
Class           Tothmorpha
Order:         Obscuruseageida
Family:       Abyssmalidae
The Abyssmal inhabits the rainforests of Central and South America. 
Males are usually larger than females, having an average body length of 65 cm (25.7 in), and an average weight of 8 kg (18 lbs). Females have an average head and body length of 57 cm (22 in), and an average weight of 6 kg (13 lbs). The Abyssmal has an exceptionally strong bite for its size, generating a force of over 553 N (1,220 lb). The jaw can open to 75 to 80 degrees, allowing the Abyssmal to generate the large amount of power to tear meat and crush bones–sufficient force to allow it to bite through thick metal wire. The Abyssmal's antennae are jointed, at least at the base, and generally extend forward from inside of the mouth. Functions may variously include sensing touch, air motion, heat, sound, and especially smell or gustation taste.
Scientific classification
Class:          Simianmorpha
Order:        Grennianida
Family:       S. Heafodidae
Native to Indonesia and Malaysia, the Shrunken Head is currently found only in rainforests on the islands of Borneo and Sumatra, though fossils have been found in Java, the Thai-Malay Peninsula, Vietnam and Mainland China. Its standing height averages is from 1.2 to 1.5 m (4 to 5 ft). On average, their weighs between 33 to 82 kg (73 to 180 lbs). Males can weigh up to 110 kg (250 lbs) or more. It is the most arboreal, spending nearly all of their time in the trees. 
Shrunken Head is not capable of powered flight like birds or bats; instead, it jumps and glides between trees.
Scientific classification
Class:          Vegetusmorpha
Order:         Trifaciesida
Family:       W. Dervishoidea
Its range encompasses scrubland, grassland, and desert habitats. It prefers open grassland and areas with scattered trees for shade. 
Males grow up to a body length of 3 m (9.8 ft) long and weigh up to 135 kg (300 lb). Females reach a body length of up to 1.1 m (3 ft 7 in) long and weigh up to 35 kg (77 lb). Their tails can be from 0.9 to 1 m (3.0 to 3.3 ft) long. The average Whirling Dervish stands approximately 1.5 m (4 ft 11 in) tall. Accounts of sizes greater than this are not uncommon, with some large males reportedly reaching approximately 2 m (6 ft 7 in). The Whirling Dervish's diet consists primarily of a wide variety of insects, eggs, birds, snakes and rodents, however some Whirling Dervishes also consume plant food, including nuts, seeds, conifer cones, fruits, fungi and green vegetation. 
The Whirling Dervish has two complimentary heads which hold both visual organs and sub-brains. The Whirling Dervishes reach puberty at an age of between 4 and 5 years, and rarely live past age 30.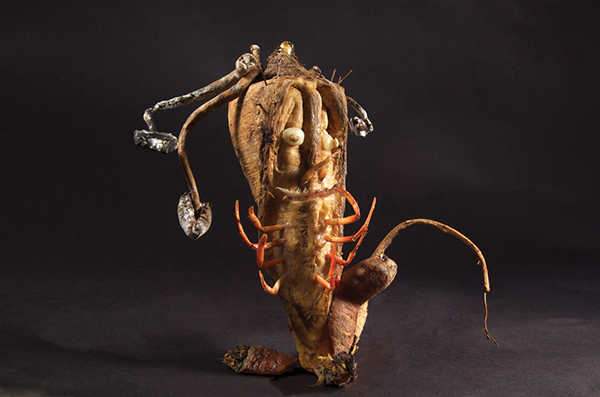 Scientific classification
Class:          Carambolamorpha
Family:       E. Diabloidea
The El Diablo is native to the regions of northern Mexico and the southern tropics of Argentina and Bolivia, but they are densest and most diverse in America. 
The El Diablo has the greatest leg span of all of these creatures, it reaches 7.6 m (25 ft). The body may grow to a size of 1.2 metres (48 in) tall and the whole body can weigh up to 57kg (123 lbs). The males have the longest legs. The El Diablo is a nocturnal and crepuscular hunter, spending the days in a hole. 
Scientific classification
Class:          Gastropoda
Order:         Isoarcheogastropada
Family:       Dingleberridae
The Dingleberry can grow to be 38 cm (15 in) from snout to tail, and weigh 1 kg (2 lbs). 
The distribution ranges from tropic to subarctic regions, but most species are found in tropical rainforests. The Dingleberry are either omnivores or predatory carnivores. In its typical development, eggs are laid in water and larvae are adapted to an aquatic lifestyle.
Its head is coiled shells in the adult stage.
Scientific classification
Phylum:       Flittenphyta
Class:           Avemashiriopsida
Order:          Deorcvaengrida
Family:        Segueeidae
The Segue range in size from 50g (1.8 oz) and15cm (5.9 in) to 44 cm (17 in) and 430g (15 oz). 
For the most part they are confined to dense rainforest habitats. The diet of all species is dominated by fruit and to a lesser extent arthropods. Its echolocation is a perceptual system where ultrasonic sounds are emitted specifically to produce echoes.
Scientific classification
Class:           Hiegiformes
Order:          Widufaciesidea
A herbivore, the Pod has adapted significantly with regard to locomotion and osmoregulation as a result of its diet. 
It grows to 1.5 m (4.9 ft) in length from head to tail, although a few specimens have grown more than 2 m (6.6 ft) with bodyweights upward of 9.1 kg (20 lbs). The Pod ranges over a large geographic area, from southern Brazil and Paraguay to as far north as Mexico and the Caribbean Islands; and in the United States as feral populations in South Florida (including the Florida Keys), Hawaii, and the Rio Grande Valley of Texas.
Scientific classification
Phylum:       Swimmanphyta
Class:           Sciellmorpha
Order:         Greniformes
Family:        Tentacularidae
The Tantacular lives in all of the oceans, particularly in warm tropical and subtropical waters. 
The Tentacular can reach 40cm (16 in) in bell (body) diameter and about 30 kg (66 lbs) in weight with fine, thread – like tails up to 1.8m (6 ft) long. Their most striking feature is their bunch of tails, which are unusually long, and enable it to hide and escape from predators by leaping out of the water, taking short gliding flights through air just above the water's surface. Their glides are typically around 50 m (160 ft).
Scientific classification
Phylum:       Swimmanphyta
Class:           Sciellmorpha
Order:          Greniformes
Family:        F. Antidae
The Fire Ant is native to the rainforests of Central America, South America, and the Lesser Antilles. Some Fire Ant males reach 68 cm (27 in) in length. 
Fire Ants are known for their ability to secrete a liquid with a strong, foul odor.
Scientific classification
Class:          Horsemorpha
Order:         Pyffaniformes
Most species of the Coral or common White devil, live on the sea floor, in a variety of geographical regions – many in coastal waters, few live in deep waters to at least 2,000 m (6,600 ft). 
Its length is up to 3 cm (1.2 in) for males and up to 20 cm (8 in) for females. All Corals sting their prey using nematocysts, also called cnidocysts with stinging structures located in specialized cells called cnidocytes.