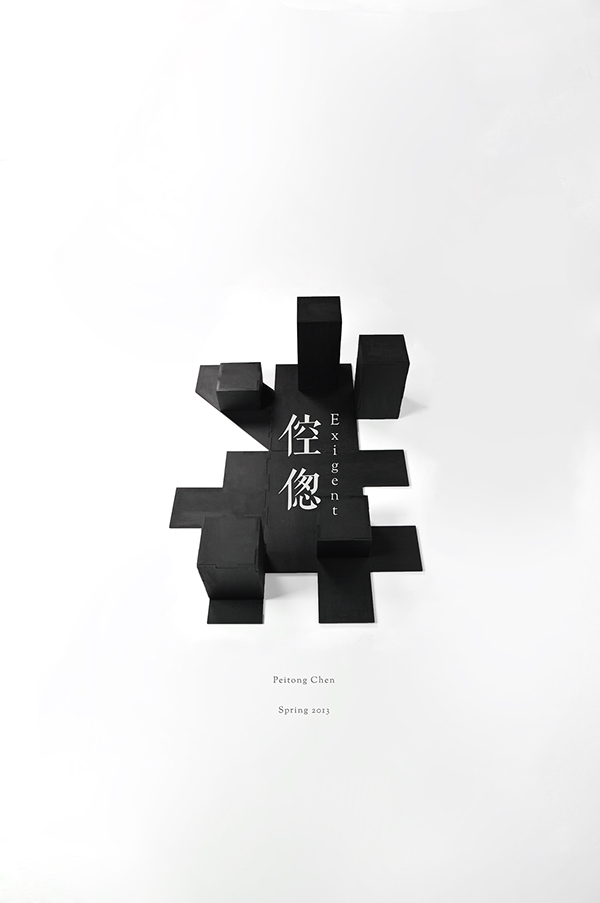 ------------------------------------------------------------------------------------------------------------------------------------------------------
    This project was created for the Form 2013 class, instructed by Noa P. Kaplan. This class explores key concepts of form, 3D modeling software, and studio practice. Students learn to design objects in Autodesk Maya and translate these models into physical space. Topics include: visual geometry, symmetry, modularity, scalability, serial production, rapid prototyping, collection, curation, and documentation.
    The Exigent was inspired by the Cultural Revolution occurred in China when a lot of scholars and celebrities were harshly punished or even executed by the Chinese government. The pedestal/base was derived from the abstraction form of Chinese characters of "The Cultural Revolution (文革 wen

ge

)." The extruded out animal parts symbolize the suppressed scholars and the rigid cube represents the Chinese government during that special period. 
------------------------------------------------------------------------------------------------------------------------------------------------------
------------------------------------------------------------------------------------------------------------------------------------------------------