A new graphic mark, a rebranding of the logo and of the corporate identity of Orchestra della Toscana. Ort, composed of 45 musicians, performs the rehearsals and the concerts, then distributed throughout Italy, in the historical Teatro Verdi in Florence. The new graphic sign refers to the harmony of sound through the flight of a flock. A new, better world awaits those who can follow the migration.
—
Un nuovo segno grafico, un rebranding del logo e della corporate identity dell'Orchestra della Toscana. La Ort, composta da 45 musicisti, realizza le prove e i concerti, distribuiti poi in tutta Italia, nello storico Teatro Verdi di Firenze. Il nuovo segno grafico rimanda all'armonia dei suoni attraverso il volo di uno stormo. Un mondo nuovo, migliore, attende chi è in grado di seguire la migrazione.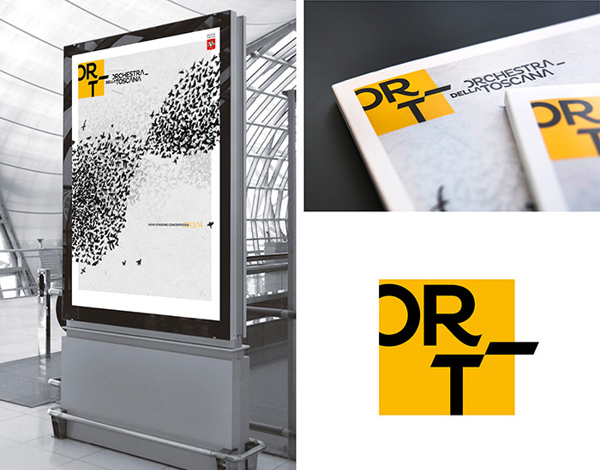 Un nuovo segno anche per il Teatro Verdi di Firenze, dove l'Ort vive e lavora.
Il logo ORT compone la parola TEATRO: l'idea è quella di caratterizzare fortemente, una volta per tutte,
la casa dell'Orchestra e della Fondazione.
—
A new sign for Teatro Verdi, too, where Ort lives and works.
The ORT logo forms the word TEATRO (theater): the idea is to strongly characterize, once and for all,
the house of the Orchestra and of the Foundation.